I've reviewed The Critical Thinking Co.™ before, getting to play around with their Alphabet Song Game with then-four year old Charlotte in early 2015. This time around, as part of the Homeschool Review Crew, I was given to review the software download for Fun-Time Phonics!™ Software – 2-PCs Win Download for grades Pre-Kindergarten through about second grade. This is part of the Reading, Writing, and Arithmetic Before Kindergarten!™ software bundle. I chose to use this with my new reader, Pierce. Pierce turned five in October and is in kindergarten this year. He knows all his letters and their sounds and has begun to read in the last few months.
The program is divided into four sections. The first teaches the sounds that make up words, beginning, ending, and vowel sounds and rhyming words. The second section teaches short vowels. Section three teaches something called consonant-vowel co-articulation. This is the concept that each consonant and vowel combination makes different, specific sounds that then make words. Section four teaches the child to combine all that they've learned to begin reading words. There are 126 lessons in all. The lessons are basic and not super flashy or showy, using two robots to teach the lessons. They have color pictures and there's a lot of drag-and-drop required with the mouse or with a touch screen, and a replay button to hear instructions again if need be. There's much cheering for correct answers, and encouragement to try again for wrong answers. The final lesson has them reading single syllable short three letter words. The lessons move slowly, introducing concepts and practicing them thoroughly.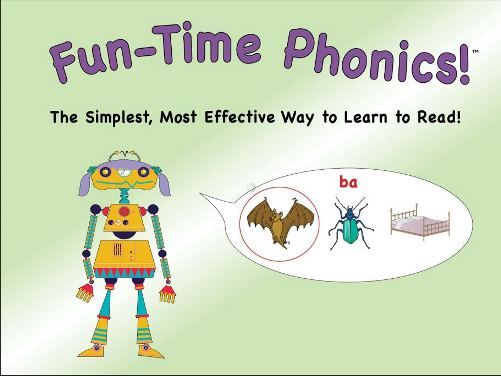 Let me preface this by saying I'm a huge proponent of teaching and learning phonics. I'm also winging it with teaching reading these days, having never found a curriculum that I love. I teach them phonics as we go and while it's led to great readers, looking at my older children, it does leave holes that have to be filled in as we find them. We jumped in to this just a few days a week, supplementing the books I was already having him read to me each day.
Pierce had already learned much of what was discussed, but the practice was nothing but good for him, and he was willing to work on several lessons at a time, especially when they were review of what he knows. He would point to the answers on the screen, say the letters aloud, and I'd use the mouse to select them. The program ran well and, while it froze briefly just a few times, it came out of it quickly and went back to running well. I'm pretty certain this was my computer, because, well, my computer is sad. Tired, shall we say.
I downloaded Fun Time Phonics! easily, but installing took a bit more convincing. My not-new (six years old, I believe) Windows 7 laptop complained and groaned a bit, but after a few tries, I got it installed properly and after a few hiccups having to register and re-register that I'm not quite sure what was going on, it has run fairly well ever since. Pierce jumped in and knew what he was "learning" from the beginning, so we skipped around and moved forward at a speed that suited him and what he knows. We covered sections I thought he needed more work on, jumped back to cover a sound he was struggling with, and moved back ahead again seamlessly.
I had to work on this with Pierce. That's really my only complaint with this. I'm not a huge fan of online or computer led learning, but if I do resort to using the computer, I'd like it to be something that my child is capable of doing independently so that I have them busy while I work with other children. That said, if we had a touch screen computer, he'd have been great on his own. The mouse, at age five with typical fine motor skills, is still quite difficult for Pierce. I'm not sure if I'd use this a complete phonics program, though it's considered a comprehensive reading program. It's a great, fun way to practice and cement good beginning reading skills, but I think my old-school tendencies require a book with ink and paper. I plan to keep both and cover all my bases!
Fun-Time Phonics! is $29.99 available here.
The Critical Thinking Co. is on Pinterest, Facebook, and Google+.