When FishFlix.com came up as a review item for 2016, my family was thrilled. I reviewed two titles for them in the 2015 review year: Privileged Species: How the Cosmos is Designed for Human Life and When Calls the Heart, Heart of the Family in October. This time around, I received The Ultimate Gift, starring Drew Fuller and Abigail Breslin.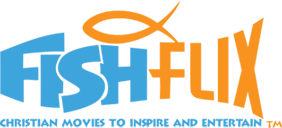 The Ultimate Gift DVD tells the story of Jason Stevens. Red Stevens, Jason's grandfather, has died, and has left a most intriguing inheritance in his will for his grandson. While everyone else greedily waited, gathered their inherited sums with an air of entitlement, Jason can't just leave with what he's shown up (late!) for. Jason has grown accustomed to having money for whatever he desired just handed to him. Red left, as his dying wish, instructions on teaching Jason the value of work, money, love, friends, laughter, giving, family, problems, learning, dreams, gratitude, and the value of a day. Jason's only hope of gaining his full inheritance requires him to fulfill twelve requirements to learn these twelve values. As Jason jumps through hoops in an attempt to gain his inheritance, he learns much. In learning what a true friend is, Jason meets Emily, a young girl dying from cancer, and Alexia, her mother. Emily teaches him far more valuable lessons than he's learned his entire life up to that point, and fights to get Jason and Alexia together as a couple.
I watched The Ultimate Gift with all of my kids, ages 12 and under. My oldest two girls, Eden and Liberty, ages 11 and 12, appreciated it the most. The others all wandered off after a while. I found nothing objectionable in the movie, although little Emily's attitude could have been better. She was a bit full of herself, telling it how it is to adults and lacking respect. That could have been portrayed differently without losing any of the story, but that was my only complaint.
The acting was well done, the movie was great quality and we were quite pleased with the story. It started a great discussion afterward of lifestyles (understanding there really are people out there that are wealthy like that!) and death, illnesses, and wills – we had fun learning about all of them. I wouldn't call this a "Christian" movie, but the fundamentals of a moral life were there and it was a great wholesome movie for the whole family to enjoy. It was a great story of relationships, learning life's hard lessons, making your own path instead of following the crowd, and just a little bit of romance.
The Ultimate Gift DVD began as a book by Jim Stovall. It runs for 117 minutes. Also on the DVD are bonus gifts, including:
Introduction by Jim Stovall
Behind the Scenes of The Ultimate Gift
Leave A Legacy PSA
Live The Ultimate Gift Featurette
The Ultimate Gift Theatrical Trailer
Sneak Peak of The Redemption of Sarah Cain
'Something Changed' Music Video
'Legacy' Music Video
Find FishFlix.com on the web!
The Ultimate Gift is available here for $6.99. It's not the only one received by the Crew though! Check out the Review Crew Blog for far more videos reviewed, along with what others thought of this one.