For the second time this year, I've been privileged to review for Institute for Excellence in Writing as part of the Old Schoolhouse Magazine's Review Crew. This time, I received the Resource Set including A Word Write Now, Teaching with Games Set, and Timeline of Classics.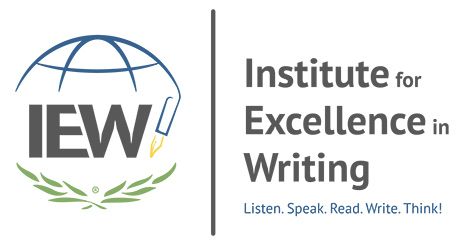 I have to admit, each time I've gotten a package from IEW, I get a little moment of panic, not sure I can handle all the aspects of this curriculum. It's so very well done. It's so very thorough. There's so much there. And I'm a tired homeschool momma to 7, soon 8, feeling like I can barely keep my head above water. I want to love it. I want to understand it. I am just overwhelmed.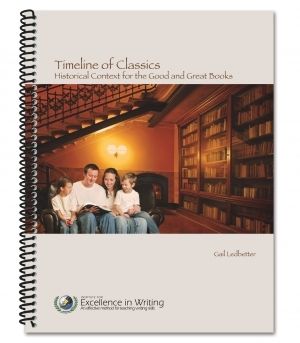 I stared at my stack of curriculum for a few days, not sure where to start. I finally cracked open Timeline of Classics first, and… imagine that. Instead of overwhelming, it's like a super seasoned homeschooler sat down, wrote down all of their favorite classics, put them on a timeline for the time period they are applicable to learning about – and spiral bound it, handed it to me. It's as if they said, "No time for researching such things? I know. I did it for you." Whew. Sigh of relief. This resource is guaranteed to be much used around this house. I looked through it at great length, and we've read and studied many of their suggestions. I find them to be spot on. It listed the age they believe the book to be appropriate for, as well – super helpful when I have limited time to preread before my book loving children read things. My ten and twelve year olds are studying certain time frames and wars right now at co-op, and I was able to, just like that, make suggestions for books that would further their study or provide material for their reports due soon. I'm thrilled with the Timeline of Classics. Institute for Excellence in Writing has thrown me a lifeline!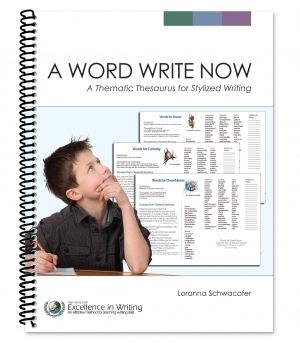 When I reviewed IEW early this summer, I received a very brief form of A Word Write Now. I found it to be a fabulous thesaurus-type resource, and not intimidating for younger users. I had no idea there was a bigger, spiral bound form! It's well organized, and has already been much used. Liberty is in 7th and doing an IEW class at co-op this year, and she was told to find five more words for some super simple words. I directed her to to A Word Write Now and she went to town… and covered the entire page! Unfair advantage to the class? Perhaps, but I think not.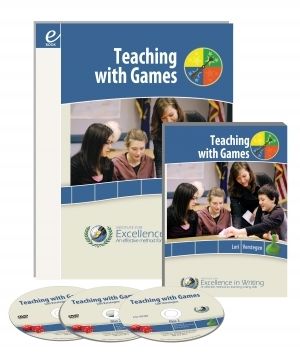 The third resource I received was Teaching with Games. It's a resource for teaching the importance, then making game suggestions (abundantly!) to be used in the classroom. It's broken into five categories: "No-Prep" Games, Matching Card Games, Question Games, Math Facts Games, and "Make As You Teach" Games. It's set up to do as much of the work for you as possible, while leaving the details of what you're studying to the teacher. There's cards to be used (each teacher needs to own her own book, but can copy as much as she wishes for the classes she's teaching), rules laid out to keep things far more simple for the teacher, and a list of needed resources for each game. As part of a huge local co-op for homeschoolers, I can see this being super helpful in helping in the classroom. I typically avoid teaching roles at co-op for lack of time and creativity in teaching, but Teaching with Games makes things as super simple as possible. Since subject matter is left up to me, I can easily "plug in" the info we need to learn into the game models in the resource. It's perfect!
So. In the end, this big box of overwhelming IEW resources turned out to be all super helpful, not the least bit intimidating, make-my-life-easier helps. All of them will contribute to learning around here without making more work for me – rather, requiring far less from me while allowing me to homeschool a little bit more the way I've always wanted to and taking as much off my plate as possible. I'm thoroughly impressed with all of what I received. It's well written, durably spiral bound, organized fabulously, and much recommended from me!
Find A Word Write Now for $35 here, Timeline of Classics is $29 here, and the Teaching with Games Set, the 2 DVD/1 CD-Rom (the PDF contains the printable workbook on the CD-Rom) is $29.00 here. You may also purchase the workbook in spiral bound form, typical for IEW, should you wish not to print it off the CD-Rom yourself, for $19 here.
Institute for Excellence in Writing is all over the web! Find them on Facebook, Pinterest, Vimeo, Twitter, YouTube, on their Blog, Google+, and Instagram.