When Apologia Educational Ministries comes up on the list of reviews upcoming for the Old Schoolhouse Magazine's Review Crew, I get nearly giddy. It's become one of my favorite companies through opportunities afforded me on the Review Crew, and I've never been disappointed with anything I've ever received from them. This time, The Ultimate Homeschool Planner was what was up for review. I was thrilled to be chosen for the review. I received the planner with the yellow cover.

When I first received my planner, I pretty much read it cover to cover. It suggests spending a few hours at least away from it all, making a plan and prayerfully setting goals for your coming year. An hour on my front porch was all I could get away with, but it was remarkably fun to sit and list my goals for my school age children and ponder what I hoped they'd learn this year. I numbered my calendar pages for this school year beginning in July, filled in a bit of the past just to see what I liked best as far as format goes in recording schoolwork for my children, and off we went.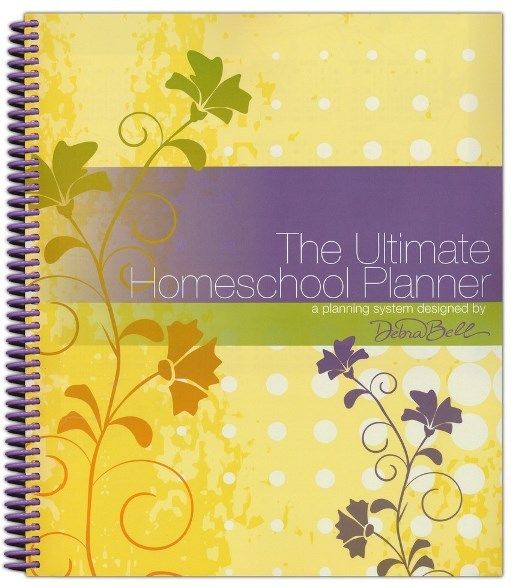 I haven't, admittedly, bought a planner for this year. After year after year of being frustrated with the planners I have and how minimally they were serving my larger-sized family, I gave up, used the calendar on my phone, and eliminated everything paper. I've rather missed the record keeping parts of paper planners, but not enough to try another planner. Imagine my delight when I found this planner will serve for up to six children! While I have potential to have eight students for one year, from a senior (Liberty) to a Kindergartener (baby Ocho due in January) until Elliot hits school, the Apologia Educational Ministries Ultimate Homeschool Planner has the potential to serve all of my school-aged students – something I have yet to find in another planner. Since having five planners floating around right now doesn't sound the least bit enticing, being able to plan for many students is pretty fabulous.
The planning and goal and prayer pages are awesome. To be reminded to pray over our days, our plans, and our goals is much needed. To record what God has done for us as a family and a school is a great reminder as I can look back and see how far we've come and see what our Lord has done for us. There's one two-page spread for every week with the headings Bible Plan, Battle Plan, Fighter Verse, Prayers, Hospitality/Outreach, This Week's Memorable Moments, and Evidences of Grace.As far as homeschool planners go – and I've tried quite a few over the years I've homeschooled – this one has to be my favorite. I love how it's driving you to Christ, reminding of your purpose, and geared toward fighting the good fight – and being geared for battle, realizing this is not an easy journey, but something to travel with planning, prayer, and Scripture encouragement.
The yellow Apologia Ultimate Homeschool Planner is $29 available here. It's also available in blue and orange.
Find Apologia Educational Ministries on Facebook, Twitter, Google+, and Pinterest.