When the Institute for Excellence in Writing (IEW) came up as a review possibility, I was thrilled. I have heard fabulous things about IEW and was so hopeful to get to check them out for myself. I received the Deluxe Combinations Teaching Writing: Structure and Style, Student Writing Intensive Level A plus A Word Write Now and Portable Walls. Level A is for grades 3-5. I used this with Sterling, age 8 and having completed 2nd grade while doing much 3rd grade work. Writing, however, is not his strong suit. Math is. So… this was perfect.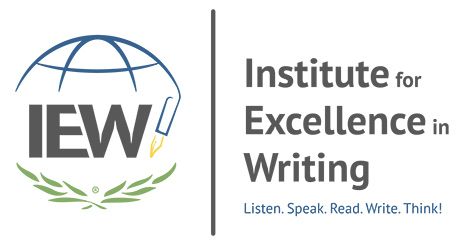 I'll admit, when my IEW box came in the mail I had a mini panic attack. Oh my word, so much information in a small box. Stacks of neatly organized DVDs, three ring binders waiting my organization, two spiral bound Fix It! Grammar teacher books… and I still needed to download and print the student workbook for that. They also came with codes for additional downloads from their website. I am still not entirely sure I completely grasp it all. It is much geared toward teaching ME how to teach writing. It is amazing, overwhelming, and awesome, all in a box. I have had a love-hate relationship toward IEW for nearly six weeks now, but I'm getting there. Sterling is learning. He's loving the Fix It! Grammar in a big way, and while he hasn't embraced writing completely, we'll persevere and keep trying. For the student book, I printed all of it out and put it in page protectors and have him pull the worksheets out to work on them. I'm not certain it's the best plan, but I was afraid pages would be ripping out all over the place if I just three hole punched them. I reviewed a higher level of Fix It! last year with Eden and loved it then too. Sterling goes through the passage in The Nose Tree, marks errors he finds, copies it down, and slowly, over the course of the year, rewrites the story – Level 1 is The Nose Tree and Level 2 is Robin Hood. I overheard Sterling telling his sister he's writing a book. Yes… but no. Clearly he's excited about it though! We'll finish The Nose Tree this year and Robin Hood next year.
I'm thrilled to own the DVD sets and while we've just worked on Unit 1 so far, I plan to continue on and teach all of my younger children. Our homeschool co-op offers a writing class based on IEW materials for 7th grade that my oldest daughter has already signed up for beginning this fall, and having covered what I have so far, I can't wait to see what it does for her. I can't help but think my own writing will also be helped as we go along. We received four student DVDs plus and overview DVD to teach the Student Writing Intensive Level A course over a school year (about 30 weeks worth) and the student binder that came with easy-to-follow instructions for organizing that. I also received twelve DVDs as part of the Teaching Writing: Structure and Style course for me to watch to learn how to teach the IEW methods to my children, with a much-needed Seminar Workbook to work through as I watch and listen.
I can help Sterling as much as he needs help. What a freeing thought! I have edited my children's paper for years for their co-op reports, uncertain it was the right thing to do but wanting to give them the best shot at learning the material properly and not sure how else they would learn. Now, I'll hold my head high and know that help is good, right, and acceptable. Giving a topic to my son to write about instead of an ominous blank page and no help has been immensely freeing. He's armed with A Word Write Now and able to look for new, different words from this thesaurus-style help that has been worth it's weight in gold. It's not overwhelming like our big thesaurus has been. Portable Walls is "A Complete Collection of Models and Checklists of Serious Students of Structure and Style" – a super helpful reminders on things he's learned, a great list of adverbs with a quick explanation how to make them adjectives by dropping the -ly, and much more, all in a fold-out simple 6 page format. It's already been helpful but as we add more units to our arsenal of learning, this looks to be a fabulous quick resource.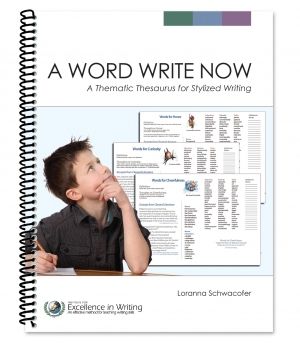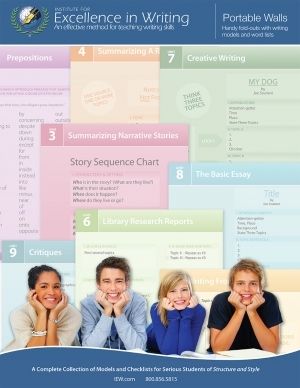 I love how, despite my sense of overwhelm, it's not overwhelming for the kids. It's underlining just a few words to create and outline, a reminder of sorts, taking notes for your own work. The Portable Walls and A Word Write Now are created, it seems, entirely to be quick reminders to help the student easily without having to search notes and textbooks and thick books that overwhelm. Sterling, at the young end of things for this course, didn't want to spend any huge length of time working on grammar or writing, and this worked perfect with IEW. He was easily able to complete Fix It!'s daily work in 10 or so minutes, and we were able to keep writing to a short time several times a week.
I won't say this is easy on the parents. It's not a simple textbook with scripted instruction for the parent to read to the student. It's taking time and energy on my part to learn how to teach, but it's been so worth it and if I can learn how to teach, if I can equip my children to be lifelong writers, all the time and energy I've invested has been so worth it.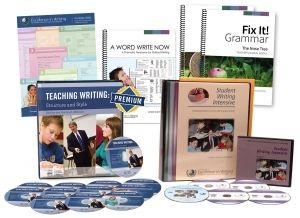 This kit in it's entirety is $299.00 available here. It includes:
Institute for Excellence in Writing can be found all over the web. Check them out on:
Many levels including several for special needs were reviewed by the Crew. If you head over to the Review Crew Blog you'll find this level and more reviewed by the rest of the Review Crew.