Apologia Educational Ministries asked the Old Schoolhouse Magazine's Review Crew to review it's Exploring Creation Field Trip Journal. As part of the Crew, I received one journal for my family to use and review.

When I saw the write up about this journal, I wasn't thrilled. Not because I didn't expect it to be good – Apologia Educational Ministries has never disappointed me in their materials – but because, well, I'm not a field tripper. Homeschool mom of seven, here I am: I hate field trips. I love the premise behind them, I love the hands on learning, but I can never seem to find field trips that encompass all of my children's levels and usually end up frustrated and feeling like I wasted my time.
I know. That's awful.
But, I got assigned to this review, and after giving the Exploring Creation Field Trip Journal the evil eye when it came in the mail, I cracked it open to see what torture it was about to put me through.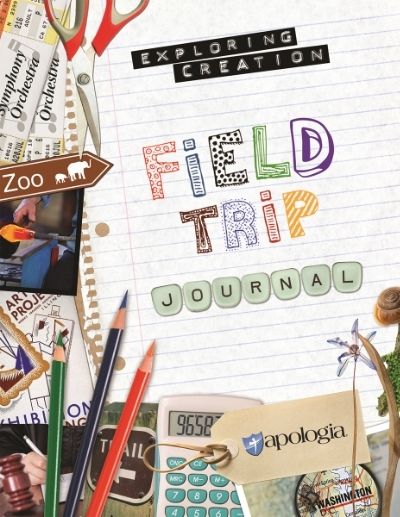 No torture. With colorful pages and fun fill-in-the-blank opportunities to journal seasons, field trips, and experiences, I decided maybe it wasn't going to be so bad after all. It has a long list of field trip suggestions that sound like far more fun than our last organized field trip to the landfill. (Yes, I did. It wasn't awful, but I learned far more than my kids. Again, comprehension levels.) I decided to give the journal to my writing-loving dear ten year old daughter Eden and, with a few quick instructions, she was off. She wrote of trips we've taken already and then, miracle of all miracles, we were thrown into a real life field trip that I didn't even organize. We went to Fort Sisseton, South Dakota, for the Indian Wars reenactments. For four days we walked the battle ground that wasn't, saw buildings that still stand because they never came under attack, and read about soldier life from another era. Eden wrote and wrote for hours in her journal and I realized something: she can journal her elementary years, high school years too if they will fit, (Can we hope they won't, and that I get better at this whole field trip thing?) and have a record of the trips we take – and I will be spurred to keep going so she can fill her journal. We could also use it as a family journal, and the age range for this one is vast. If a younger student were using it, I could certainly fill in the spaces as they tell me what to write. Eden was able to take it and go with very little help.
With exploring my state, country, and the world sections, the Exploring Creation Field Trip Journal is a fun resource to keep your student thinking about what they are doing and how it can be used as a learning experience. Vacations take on new life and simple trips to the park and the zoo can be recorded for the memories they are. There are many As I See It pages to draw on, and suggestions for what you might be watching for. This will become a treasured volume of memories created in the years to come that Eden will be able to keep and look back on. I even had the brainstorm to record the hours spent on the field trip on the page she journals about it so it can assist me in the record keeping the state of Missouri requires.
Apologia Educational Ministries is an amazing company. We've used a handful of their curriculum and loved every bit of it. Check them out on Facebook, Pinterest, Twitter, and Google +.
Exploring Creation Field Trip Journal is spiral bound with a glossy softcover, 64 heavyweight paper pages, and is listed for $22.00 available here.
To read what the rest of the crew thought of Apologia's Field Trip Journal, head over the the Review Crew Blog.