I've reviewed Apologia Educational Ministries before. Eight times before, to be exact. And yet, when proposed with the prospect of reviewing yet another publication from Apologia Educational Ministries, I still get excited. I've yet to dislike something I've received from them, and my shelves boasts every one of the things I've received to review. Permastash, I believe it's called – mostly homeschool-curriculum and a bit of mom-encouragement style. This time, I received the student text Exploring Creation with Astronomy, 2nd Edition. Along with it, I received the Notebooking Journal, the Junior Notebooking Journal, and the Audio CD of the book.

I passed the regular notebooking journal to Sterling, my nine year old 4th grader, and the junior notebooking journal to my almost-six year old 1st grader, and then I sat down all my school-age kids, from the eighth grader to the kindergartner, and I read the student text aloud of all of them. Tough way to do science, I tell you. But it's not! They all crowded around, some voiced their disappointment that they too were not given a notebooking journal, and listened, excited to learn each time I read. I'd read until my voice gave out – no one complained. I didn't use the audio CD, because I enjoy reading it to them, but it would be great for using in the car or having your student work a bit more independently. We read, we bought balloons to make the planets and create a display, we ordered a magnifying glass to learn about the power of the sun, and we just generally enjoyed learning about God's creation. I so appreciated Apologia's approach in the past, continually stating that Creation is to the glory of God, and Exploring Creation with Astronomy followed the same approach, naming our Creator and seeking to honor Him. I appreciate that so much.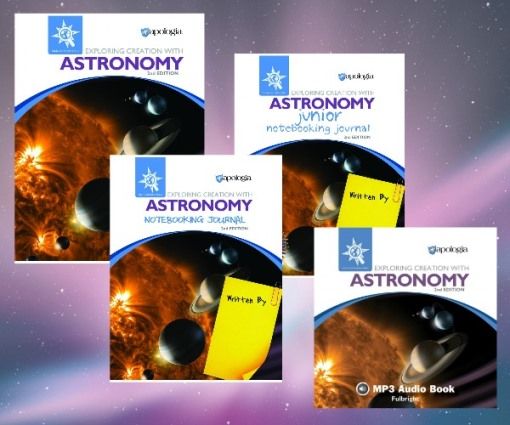 It's funny to me, how as homeschoolers, our life revolves around what we're learning. Our conversations often turn to things regarding our studies, and lately it's been planets, stars, and earth in relation to space. It's even stretched my knowledge and I've learned a bit along the way. I plan to keep going in this for the entire school year. I love that it covers all my elementary ages for science, and yet we can all do it together, from the littlest to the biggest. (And my middle schoolers both love to listen in anyway – despite the fact that they each have their own science. (Also from Apologia! I rather like them.)
I'm thrilled with this science too. I love that I don't have to read ahead, fearful of what the text's approach to certain topics might be. I've never had to explain that we think differently than what's being presented in the book. I love how hands-on this is, and yet isn't. It has all sorts of suggestions to make the information more clear to the young student, but the day we read about doing the balloons, we didn't have a single balloon in the house. I chose to purchase them and come back to that later, but skipping it entirely was an entirely feasible option as well. We can do as much as we have time, attention, and the resources for, and move on past the things I opt not to do. It's perfect.
The notebooking journals are my favorite part and definitely a huge addition to the student text. They have everything inside they possibly can to aid in the experiments, etc. They have pages for the mnemonic to remember the order of the planets that they suggested making – my kids worked over that first lesson's assignment for quite some time attempting to come up with the best one. Eden came up with "Many various elephant movements just stubbornly used neurotoxins." (Mercury, Venus, Earth, Mars, Jupiter, Saturn, Uranus, Neptune) For the record, I challenged her that she'd forget her sentence… she hasn't. Neither of us know what on earth it means though! Liberty wrote "Many vacationing eagles make jabbering sounds under Norway." More memorable, perhaps? Either way, it's got everyone remembering the list of planets!
Charlotte's junior notebooking journal has copywork, coloring, cutting/writing, and more, all geared a bit more toward the younger age group, while Sterling's regular notebooking journal contained copywork pages, scrapbooking pages, more writing required, minibook pages and instructions, and so much more. The copywork pages we've done so far are verses from the Bible – again, I love that! The notebooking journals also have a great suggested daily schedule inside that helps keep us on track for breaking down each of the fourteen lessons into manageable pieces for each day.
Exploring Creation with Astronomy, 2nd Edition, is priced at $39. Each of the two notebooking journals, one for older elementary and the other for younger elementary, are listed at $27. The Audio CD of the student text is  $29.
Apologia Educational Ministries is all over the web! Find them online on Facebook, Twitter @apologiaworld, Pinterest, and Instagram.
There are almost one hundred reviewers that tried out Exploring Creation with Astronomy, 2nd Edition, for the last six or so weeks, just to let you all know what we thought. Check out the rest of the reviews at the Old Schoolhouse Review Crew Blog.