When Foreign Languages for Kids by Kids came up as a possibility on the Old Schoolhouse Magazine's Review Crew, I asked Liberty, age 13 and starting eighth grade, if she was interested in taking Starter Set 1, their beginning Spanish program. She answered with a resounding "Yes!" and we dove in. This was created for at least 3rd graders and above, so she was quite capable, but it wasn't too juvenile. She's been thoroughly enjoying it!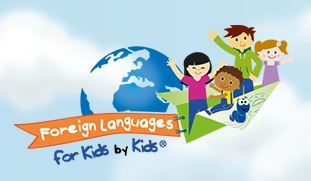 We received for our review a complete curriculum package, including:
a 20-week curriculum guide with games and activities
DVD 1 with three videos – Basketballs Aren't for Breakfast and The Little Magic House Part 1 and Part 2
3 Workbooks that correspond to each of the videos
A sticker label set with common Spanish words learned in Basketballs Aren't for Breakfast
Three flashcard sets, one for each word learned in each of the videos
Liberty jumped in with the DVD and both of us were thrilled with the immersion approach used – they didn't actually give you the English word, just showed you what they meant. Basketballs Aren't for Breakfast was quite easy to follow. It was a cute little, sometimes funny story that was acted out, never a word of English, but quite clear on what they meant – many things were repeated many times and spelled out on the screen also. The Little Magic House was a bit more complicated – rightfully so to advance and learn, but she was sent for a loop when she finished Basketballs Aren't for Breakfast and jumped into the next story. After working with that same story several times it got easier though, and Spanish words are commonly heard from all of my children these days, all of which are thoroughly enjoying learning a bit of Spanish when they sneak in to listen along with Liberty.
After reading the teacher's book and going over a few things with Liberty, she took over and has been working fairly independently on this. I took one semester of Spanish in college – meaning I remember just a smidge… enough to sort of understand the conversation. It's been fun to listen along, as the stories are cute and well done enough to be interesting and even funny at times. We didn't follow the lesson plans once I got into it and knew what she was doing. I love how she was able to figure it out and needed minimal help. She watches the video and works a bit in the corresponding workbook, then watches the same video again next time, and works a bit more, until she's finished all the work for that video and has a good grasp on all the words introduced.
Liberty has used the flashcards to practice the terms she's learned. They are color coordinated for each of the three videos, making it easy to know which set to practice. There's answer cards as well to be sure she's correct. Each card has a picture pulled from the video portraying the term they'd focused on just then in that moment in the video. She's fast with naming them all from Basketballs Aren't for Breakfast – though her pronunciation is less than stellar.  The Little Magic House she's a bit slower with, but she's learned much as she's worked on that one. She even has Elliot, her two year old sister, repeating some of the words! I love it.
The kids have been working on making themselves a play fort/house of sorts, and there are an abundance of Foreign Language for Kids by Kids Spanish labels strewn all over the shed they are using for their fort and on items they've dragged up there. I'm pretty sure a few of the items made their way that way merely to accommodate the labels. They've had a ton of fun with them! Just out of curiosity, I asked Ruby, age 7, what 'shoe' is in Spanish, since I know that was one of the labels. She knew the answer. They have a spot in their fort for their zapatos!
Liberty said to tell you all she loves Foreign Languages for Kids by Kids! She's learned much, thoroughly enjoyed herself, and loves knowing a bit more Spanish than the few words she'd picked up before. She plans to continue on to finish the workbooks, she loves them so much. It's certainly a basic beginner course, but that's what she needed since she's not done any Spanish before now. Repetition has definitely been key, since the first time she watched each of them she was so confused she had more questions than answers. She's learning and loving it and definitely recommends this course for beginners!
This complete curriculum set is currently listed for $140.25 here.
Find Foreign Languages for Kids by Kids on Facebook.