If you know me very well at all, you know I far prefer hands-on learning over learning from a screen. My kids have had very limited exposure to movies, computers, etc. We have a large collection of books and we use a textbook approach to learning the core subjects. When I first learned about Science Shepherd and had the opportunity to review it, I wasn't entirely sure it was for us. I know the world has gone digital, and homeschooling is quickly following suit, but I'm dragging my feet on it. But when I read that Science Shepherd has quick videos and an accompanying workbook, I decided to jump in, review it, and see how it is. Sterling, who is turning nine tomorrow, reviewed Introductory Science Level B.
We received the 383-page spiral bound Science Shepherd workbook in the mail and jumped in. There are 35 weeks of lessons, and each lesson took maybe ten minutes, with just a quick page to fill out after watching the video. There are a few extra activities to do that take a bit longer. So far they've covered creation (I so appreciated their standpoint – completely creation based, but touched on the theory of evolution.), science skills and tools, and he's started on meteorology. Geology, oceanography, plants, human beings, matter, energy… the list goes on for what's ahead. It covers it all in fairly minimal detail geared toward the upper elementary student, and it wasn't overwhelming or too much to remember. The videos came from a creation viewpoint, and are short, easy to understand, and with a quick lesson from a speaker in a newscaster style presentation. They aren't flashy, just to the point. Sterling really enjoyed it and while I had to keep reminding him to do it since we're done with school for the summer and not in "school mode", he never complained.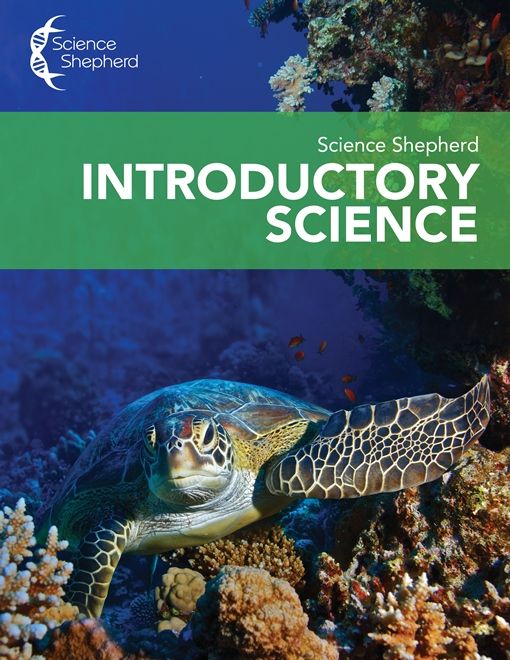 I received the Student Workbook, a 41-page Answer Key, and a year-long access to the Science Shepherd Introductory Science videos. The videos are $35 for the year with an economical option to extend video access if you find yourself in a time crunch at the end. (As one who has scrambled to finish before expiration deadlines in the past, this is a great feature!) The workbook is $15, and the answer key is$3, making Science Shepherd a very affordable homeschool science option. Introductory Science is for ages 6-11, with Level A geared toward 6-8 years old and Level B for 9-11
years old. We found Level B to be pretty easy for Sterling, as a good reader and decent writer, having just finished 3rd with a good amount of 4th grade work completed as well. It is definitely Introductory Science, as its name suggests. It didn't go into great detail, and I'm not certain he's going to walk away having learned a ton, but he will have touched on many subjects, and it's been entirely pain-free.
Levels A and B both cover the same material and use the same videos. Level A has larger print and less questions in the workbook while Level B asks a bit more writing and remembering from the slightly older student. If you have students in both categories, buying both level workbooks and having the students watch the videos together before working in their own level workbook is a feasible option.
Find Science Shepherd online! They can be found on Facebook, Twitter, and Pinterest.
There 100 reviewers and three different science programs reviewed by the Review Crew. Check it out!