We're finishing up the review crew year with the Old Schoolhouse Magazine's Review Crew, and one of my last reviews has been my kids favorite review all year. We received from Brinkman Adventures the audio drama The Brinkman Adventures: Season 3. With four CDs containing 12 stories, my kids have declared them to be the best thing EVER. They listened to them before bed each night, and for twelve glorious nights, getting ready for bed was a non issue. They scrambled to clean up supper and get pj's and teeth readied for bed so that they'd have time to listen to another story. They finished them all and have decided to start them again. It would seem we need to invest in Season 1 and Season 2!

The Brinkman Adventures are real life stories of a real family  – a large family like ours even. Names have been changed, but the characters even play themselves. The missionary stories are based on true events. We received episodes 25-36, but I see that the website has printables for the first six episodes. They can be listened to out of order (We've not heard any other episodes.) and there's much on the
website
regarding characters and stories.
From the very first episodes, I had commands from my children that I was to write a most positive review regarding the Brinkman Adventures. They rarely get so excited about anything I review, but their excitement never waned. Every morning… or when they stumbled to the bathroom once the episode finished, I heard a play by play of the story, with particular attention to an adorable boy named Peter who won Charlotte's heart with all of his hilarious comments. When I asked Charlie what his name was to write my review, I heard yet another few excitedly animated tales of the messes he made. I heard about Hope having made orange juice from water used from the toilet – having been flushed first – from each of my older four daughters, multiple times. They couldn't get over how funny that was!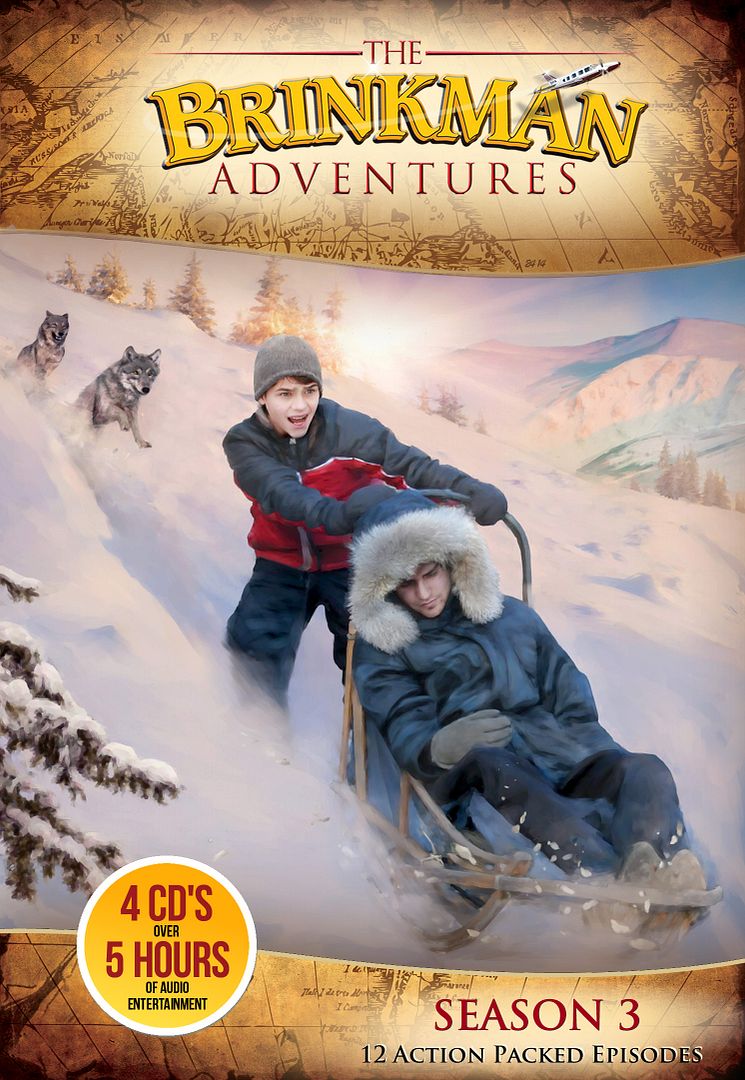 The kids learned about Nate Saint and his family, and that story hit particularly hard with my children. Learning of a family that served the Indians that had killed their family member struck a chord with my kids in a big way. Each episode or series of episodes has the Brinkmans traveling to different missionaries and learning their stories. They heard much from Mincaye, the man who killed Nate Saint. Today, he is called grandfather by the grandchildren of Nate Saint. What a story of redemption! (Okay, it struck a chord with me too! How great is our God?!)
We can't recommend this one enough. Brinkman Adventures is well done, high quality, and it had my kids begging for more and talking constantly. I asked a few questions just to clarify things as I was writing my review and not a single child left me with just the info I asked for – they had to give me a play by play… or twelve. I so hope to be able to purchase the other seasons soon so that we may own them all. When kids get excited about something Bible based, teaching them to look outward instead of self centered, it's a pretty spectacular thing.
Brinkman Adventures is on Facebook.
The CD set is available for a suggested donation of $27.99 with free shipping, or the MP3 download has a suggested donation of $17.99. Both are available here.
To read what the rest of the Crew thought of Season 3 of Brinkman Adventures, check out the Review Crew Blog.