It's my last TOS review for 2015! It's been a fun year, and we've had a great time trying out curriculum – some we'd never heard of before, some we knew and loved, and some new ones have become favorites. For this last review, I received a paperback copy of Rabbits Rabbits Everywhere: A Fibonacci Tale written by Ann McCallum from Ann McCallum Books.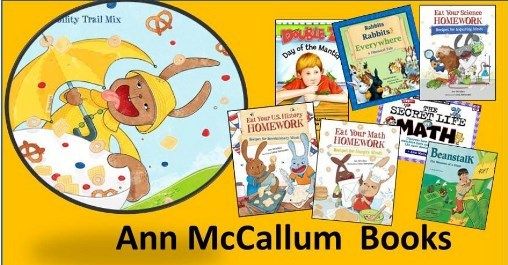 Rabbits Rabbits Everywhere is a math story teaching the Fibonacci rule – a math pattern rule that I admit I'd never heard of before I received this fun little paperback with a pied-piper type story. Rabbits are multiplying at a rapid rate and taking over the land. A young girl named Amanda figures out the rate at which they are multiplying and saves her home from ruin. It is a cute story, captivating and thorough in its explanation in 32 colorful pages. With rabbit characters named Fibb and Knot that have moved into the town of Chee, the terms are memorable and cute. My children didn't catch the play on words at first, but now I'm pretty sure they'll never forget them.
When the book arrived, I opened it and set it on the coffee table to read later. It disappeared. It reappeared only to disappear again. It would seem my dear children all loved the little paperback. I purged a multitude of books just yesterday and found it on the kids' bookshelf when I was cleaning. The moment my hand hit it, three different children were begging for that book be one that stays. It will!
Ruby on up read this one alone, although Ruby's pronunciation of Fibonacci might be a bit rough. She's 7. Sterling's 8, Eden's 10, and Liberty's 12, and all of them loved this fun little math tale. They've managed to curl the edges on the cover, mere weeks after it arrived. When I found it on the bookshelf yesterday I sent it to the coffee table so I'd have it to write my review, and again found it missing, only to be located in the hands of a child. There seems to be a theme here.
Rabbits Rabbits Everywhere: A Fibonacci Tale is listed currently for $7.22 for paperback or $15.99 for hardcover here.
Ann McCallum is a math teacher and author of five books, all of which were reviewed by various member of the Old Schoolhouse Magazine's Review Crew. Read other reviews on Rabbits Rabbits Everywhere:A Fibonacci Tale and reviews of Mrs. McCallum's other four books as well on the Review Crew Blog.