The Old Schoolhouse Magazine has been working with a review for Reading Kingdom. I received for review Reading Kingdom Online to work on with Charlotte, who turned five during this review. Reading Kingdom is an entirely online program for ages 4-10 to learn to read and practice phonics. Reading Kingdom uses Dr. Marion Blank's Six Skill Integrated Method, teaching six skills through integration and practicing skills in a combined fashion to produce skilled readers and writers to a third grade level.

When I first logged Charlotte on – after a bit of logon confusion that was resolved within an hour or two of sending an email requesting help – Charlotte was "tested" to be placed in the proper place in the program. She was placed early in the program, I think, which was a bit frustrating. She was placed more because of her computer skills (admittedly lacking compared to the common five year old) rather than her reading skills. Charlotte is reading at a kindergarten or first grade level, and definitely beyond merely learning to recognize letters. That said, it did not take many lessons for Charlotte to move forward into skills a bit more lined up to her abilities. She never was terribly challenged during this review, but it became more fun and less beneath her level pretty quickly.
I tried to run this on my Kindle Fire. If a touch screen were available to her, Charlotte would be able to accomplish far greater things than using the computer mouse that was hard for her to handle. My Kindle is a few years old and not compatible. We do own one more recent Kindle, but it does not run on one with a smaller (7″) screen. We were limited to the laptop.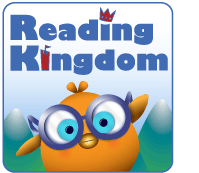 Charlotte was asked to click on letters that matched the ones above them. She could easily tell me what she needed to click on, but she'd missed the letter she clicked on and she'd get it wrong. This provided some fierce frustration for the dear girl, and Reading Kingdom became not her favorite "game". A few times I'd sit with her and have her point and I'd run the mouse, but this is contrary to the program's instructions of letting the child do it. We did have frequent freeze issues, but a few emails to ask about it solved most of them. The customer service is second to none, and they responded quickly every day – even weekends – when asked for help.
Overall, for the student who has had more time on a computer and boasts more skills with a mouse (or an appropriate touch screen device), this would be a fun program and learning would come naturally in a "game" type setting. For Charlotte, with limited appropriate technology and limited computer skills, this will not become a favorite program. She did enjoy the game concept that attempted to make learning fun and combine every aspect of learning into one program that has obviously been labored over intensely to make it what it is today. If the day ever comes that we have a newer tablet that will work with this, we might quite possibly try this one again. In the meantime, Charlotte needs to practice using a computer mouse! Our issues were not at all with the program, but the skills required to excel with it. If you'd like to try it for yourself, check out their website for a free 30 day trial!
Reading Kingdom can be found online on Facebook, Twitter, and Pinterest.
To read what the rest of the Crew thought of Reading Kingdom Online with their various students who used this program and another product, Autism Spectrum Disorder Reading, look at this post on the Review Crew Blog.