Last year, I got to review Progeny Press. (Find that review here.) This fall, I was once again privileged to review Progeny Press for the Old Schoolhouse Magazine's Review Crew. This time around, I reviewed their 45-page downloadable study guide for Miss Rumphius. This is geared for Kindergarten through 3rd grade, so I included Charlotte, age 5, Ruby, age 7, and Sterling, age 8, in this review. Pierce is 4 and couldn't help himself – he had to at least listen in. We had to use this primarily on the computer and not print out the guide, as our printer decided to take a holiday right about the time this arrived. It's (warranty) replace arrived today. Of course. Still, it was easy enough to use just on the laptop and answer the questions together, and I could even send it to my Kindle to use the PDF file out in the lovely fall sunshine. My preference would have been to have the questions printed to keep things neat and organized, but a spare notebook served nicely instead.
This study guide did not come with the book Miss Rumphius – but it's one we already owned. Perfect! I did check, just to see how easy it would be to borrow from our local library, and they offered several copies – but they were all checked out with several holds on them. Imagine that, Progeny Press wrote a book that's well written enough to have a line waiting for it. No surprise there. I highly recommend buying the book anyhow – it's much loved around here.
The copyright on this study guide allows one teacher to print it for classroom use – I can make as many copies as I need for my children. As a mom of many, this gives e-guides a huge benefit over a printed workbook. I can use this, love it, and do it again next year when Pierce is old enough to get a bit more out of it.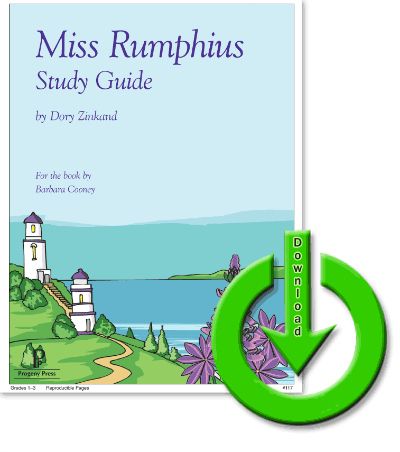 Miss Rumphius Study Guide contains three sections. We found it easy to complete one section per week, and took less than a month to complete the entire guide. My favorite part of the guide is that it takes the legwork out of making quality fiction a homeschool study. It suggests sampling a coconut, asks questions that help me see where my kids are in their thought processes, and incorporates many scriptures that apply to the situations in the story. All of these things are things I could come up with on my own if I had time and ambition… but I don't and I don't. This takes all the work out of it and just makes for a fun study of a book my kids already know and love. Prep work was non existent for me – if I'd have bought a coconut, the kids would have loved that, and I still might need to do that, but we didn't encounter the need for anything special to keep our fun study going – something I'm thankful for!
We'll do this study again down the road, just to cover it again and include younger children. I'd never hesitate to do any of the Progeny Press studies. They are well written and very much from a Christian perspective. They use the NIV of the Bible – not my first choice, but much appreciated by my children for ease of understanding.
This e-guide is priced at $11.99 and is for download, though I did notice they also have a CD or printed workbook available for the same price. You can find them all here.
Progeny Press is on the web on Facebook, YouTube, and Twitter.
To read what the rest of the Crew thought about this study guide and a multitude of others we had the opportunity to choose from, check out the Review Crew Blog.