My children and I have had the privilege of receiving a MP3 CD from Jim Hodges Productions with the G.A. Henty book When London Burned and an accompanying Study Guide in PDF Format. This was designed for ages 10 and up, and it was over the heads of my younger children to a large extent, but it's a Henty book, so with no qualms, I played this in the living room on the computer. It's stated not to work in a typical CD player, so I didn't even try that, but I had the option of playing it on the computer or from the Ipod. Since my Ipod doesn't have so much space on it free, and this file is 13 hours 21 minutes, that was not going to fit. The computer worked just fine.

The MP3 CD isn't anything fancy. It's a male reader, reading the Henty book. It's well read, clear, and of perfect quality. It's not a drama with sound effects and multiple voices, however.
The Study Guide is 65 pages long. I didn't print it out, but just viewed in in it's PDF format on the computer. It's chock-full of activities, questions on words that we weren't familiar with, history questions based on the period the book was written in, and much more. It had far more activities than we had time to get through, but it was amazingly thorough in it's study of the book and what could be learned from it. I typically find study guides less preferable to our own discussions of books, but this one provided a fabulous bouncing off point and much activities to be done as we went along. We could make an entire semester's unit study off the book and the study guide, I think.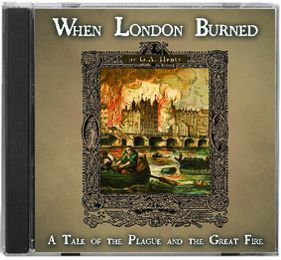 When London Burned is based in the 1600's, and much discussion naturally happened merely because the culture was so very different. Henty's book likely portrays what would have normally occurred, and merely the thought of leaving a 12 year old to fend for himself for months while the father traveled on business of sorts is absurd, now. Men became men quite a bit faster then, and the main character did a remarkable job of figuring out how to make his way in the world and support himself, and eventually his father as well.
The PDF has a "Character First" chart at the end that I really liked. Henty's books always press towards people, particularly boys, learning good and godly character, and this book was no different. We enjoyed it, were entertained, learned a good bit, and discussed it much. The study guide is a bit above my 9 and 11 year old heads, but it was still useful. As they get older, particularly in high school, I think this will be something they can work through on their own even. For now, it was helpful even so and easily adapted to make it more at my kids' level.
The MP3 CD is $25 or the files for download are $18. The study guide is in PDF format for download and is $12.
To read more reviews on When London Burned and many other books on tape available from Jim Hodges Productions, check out the Review Crew Blog.