A few weeks ago, I received for review on the Old Schoolhouse Magazine Review Crew a book from David Nicholson titled If He Had Not Come. It's a hardcover children's picture book, about 8″x11″ with 40 glossy colorful pages. Written for ages 6 and up, all of my children enjoyed this and Sterling, age 7 and a great reader, was able to read it on his own. Ruby, 6, is reading at a 1st-2nd grade reading level and struggled to read this whole book on her own – but she thoroughly enjoyed hearing it read to her!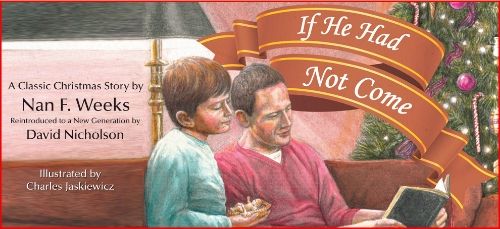 If He Had Not Come is a "classic Christmas story by Nan F. Weeks reintroduced to a new generation by David Nicholson". I have to admit, as I read through the story for the first time, I found myself cringing, wishing the Gospel was clearer. It's a story about what life might have been like had Christ not come. It's unfathomable, really, but the depression and rampant sin had Christ not come and given us a reason for living, a list of morals and commandments to attempt – it would have been unbearable. So when I read through the first time, I found it pretty basic – it was more a general good that wouldn't be present had Christ not come. Then I came to the discussion questions, Going Deeper by Josh Mulvhill, and the Gospel Message, and I nodded and smiled. It's all there. The Gospel, the truth about why Christ had to come, and a great description of what it means to believe in Him was all there. It is well written, and while I'm sure it would have been difficult for Ms. Weeks to include in a children's story, it would have pleased me to see her try. Mr. Nicholson, though, in remaking the classic, did a fabulous job of rounding it out and speaking gospel and truth the reader in an understandable fashion.
The back of the book promises a stage play script is in the works. I'd love to see it. It's an intriguing thought, to consider all Christ has done for us, how He has changed our history to a bearable and wonderful future from what was bleak and miserable. It could make a powerful Christmas play. Mr. Nicholson mentions hearing it first as a child in Sunday school and thinking he'd read it to his family each Christmas – that was 30 years ago. It sounds like a great tradition, especially if it sparks conversation to help us realize what Jesus really did for us in coming. Our world is changed, forever. We found many an interesting conversation started as a result of this book and the discussion questions have several activities that we can continue to pursue as we approach Christmas. I think we'll make this book part of our own family Christmas tradition as well.
If He Had Not Come can be found on Facebook.
If He Had Not Come is available in hardcover for $18.95 or in PDF format for $3.99.
About one hundred of us on the Crew got to read and review this Christmas book. Check out what everyone else thought on the Review Crew Blog.