We began our homeschool co-op yesterday again. It was a fun day, all of the kids had a great day, and I dropped all eight off with no tears. Stellan threatened but crackers fixed that.
I'm on the security team this year. So… I walked. And walked. It was a fun day… and I was in bed by 9pm.
Liberty is on Student Council this year and was given a huge-on-her generic printed tshirt to wear. It came nearly to her knees and the armpits gaped. I went to town on it to make it fit and took five inches off the trunk and added some shape to it, then took four inches off the length. As an afterthought I took the removed length section and made a band at the bottom. That turned out cool enough that I shortened the sleeves and made a band with those sections as well so they'd match. She went from dreading the requirement to wear the huge shirt for the first three weeks to being super excited about it.
I got pictures! Totally winning that day. Everyone showered, we didn't forget anything at home, I took pictures, we packed a lunch, and we were half an hour early to co-op because we were ready and I was afraid hanging out at home would mean something would get undone… someone would get dirty, take something out of their backpack and forget it at home… something.
Liberty is 14 and a freshman this year. Craziness!
Eden is 12 and in 8th grade this year.
Sterling is 10 and in 5th grade this year.
Ruby 8 for a few more days and she is confused, poor girl. She's in 5th at co-op, but 4th at home… but all her books are 5th grade level, it's just that all of the others did those books in 4th grade. Poor girl. We'll just call her 5th too.
Charlotte is 6 for another month and in 2nd grade.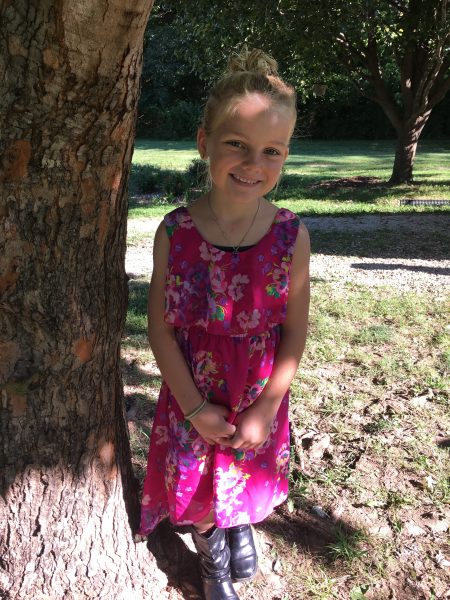 Pierce is 5 for another month and in 1st grade this year.
Elliot is 3. She's in preB at co-op… meaning she's three.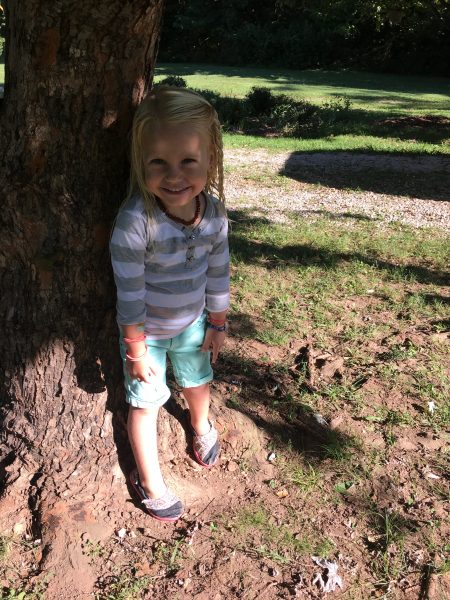 Stellan is 19 months. He's in the Walkers class at co-op. He's graduated from the nursery and needed a nap mat this year. Not a baby anymore! I took his new nap mat to Michigan and made him sleep on it all that week. Lo and behold, he laid right down and took a nap at co-op like he'd been doing that forever. I was afraid it wouldn't go so well. Stellan is a strong willed opinionated child if there ever was one.