I've been teaching Pierce to read this summer, and when the Old Schoolhouse Magazine's Review Crew had the opportunity to review an app created for children around age four or five years called Talking Shapes: A Supplemental Curriculum for Early Literacy from Talking Fingers Inc., I had Pierce work on that as well. Pierce is four, five in October, and about to start Kindergarten. He knows all of the letters and their sounds so some of this was repetitive, but he still learned so much!
The app begins with the "ancient" story of Nat and Nan telling stories and wishing for a way to record them so they'd remember them. They then "created" letters to make words and the written language was born.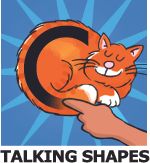 Talking Shapes is a series of seven apps containing seven "books" that each have a story, three spelling games, and then a reading game. They build sequentially on each other and one cannot move from one to the next without completing the one before it. Each book earns the child a trophy in bronze, silver, or gold, depending on their score. The games can be replayed to learn more and earn a better trophy, and there are assessment games after certain levels to assess progress. Clicking on the Owl Scholar on the home screen gives you the scores your child has earned on each book.
Pierce loved Talking Shapes. He made it through three of the "books" during the review and learned so much. He's gotten so much better at sounding out words in his reading lessons as he's gone along, and I think that's due to playing on this app. Talking Shapes has them put the letters together as they sound out a word – say the first sound, second sound, those two sounds together, then the third sound. We've carried this over into his reading lessons because breaking it down like that has helped him greatly in knowing the word he's reading. Pierce was thrilled with the bird… an owl, chicken, roadrunner, etc, depending on the book… that laid an egg with each correct answer. The little excited bird noises was pretty thrilling for him as he progressed and made the right choices.
The app is created for a tablet, though the version I was given was to be used on my Windows laptop. That made some of the functions slightly complicated without a touch screen, but this would be fabulous as an app on a touchscreen device. There was a portion for practicing the letters they learned, but the mouse had to be clicked on the area, then the button held down for the duration of drawing the letter with the mouse. This was far beyond Pierce's capability, so I did that part for him while we talked about how to draw the letter. This worked, though it made it impossible to leave him to play on his own. I tried to use this on my Kindle, but the version I was given would not work on that. That said, this has been set to be released as seven tablet apps for iPad and Android devices – so it should work on a kindle with the actual app. It will not work on a smart phone.
We really liked this app! With the kinks we experienced that will be ironed out with a touch screen device, this will be perfect for a young child just beginning to learn to read. It teaches that valuable how-to-put-the-sounds-together skill that several of mine have struggled with at the beginning of learning, and teaches sounds and letters with a cute cartoon drawing that captures littles attention (squirrely, in my world! Thus, the sitting on the arm of the couch approach!) and encourages fun in learning. It took a minute to load each time we started but ran nearly flawlessly once loaded. My old computer groaned a few times and froze for a minute, but I'm pretty positive that's my computer being cranky.