We've reviewed quite a few audio dramas from
Heirloom Audio Productions
, and we've loved them all. When another one came up for a possible review, this one titled 
Beric the Briton
based on the book of the same name by the great G. A. Henty, we all cheered. I received the two-disc set along with access to an abundance of resources, including:
Beric the Briton MP3 Set
Beric the Briton E-Book
Official MP3 Soundtrack
Printable Cast Poster
Study Guide and Discussion
Inspirational Verse Poster
Live the Adventure Letter
Behind the Scenes Video
So… a ton of things to help us understand, explore, and learn!
The time is about 60 A.D. when Rome invaded Great Britain. Beric, the young leader of his tribe in Britain, is taken prisoner by Rome, and finds himself a gladiator under Nero's rule. He learns of
Christus
and struggles with having served the pagan gods he's grown up with and learning of a Savior who lived, died for, and rules over all. In a move of great honor, Beric – a fictional character set it a non-fiction period in history – risks his life to save another. Honor, integrity, faithfulness are main themes in the story. Much historical fact is woven into the entertaining tale and one learns of the Roman Emperor Nero and of Queen Boadicea of the Britons.
In what I'm coming to expect as typical G. A. Henty fashion, there's a young boy, a grand adventure, danger and intrigue, a girl, and Christ crucified preached. Beric the Briton follows this pattern in great splendor, fearsome battles, and a satisfying ending. Heirloom Audio Productions has taken this story, put many well-known voices, music, and sound effects to it, and provided two and a half hours of entertainment.
The 50-page downloadable Study Guide and Discussion is by far the most valuable of the extra resources for us. In typical Heirloom Audio Productions fashion, it divides each set of questions into three categories:
Listening Well asks what was heard and remembered 
Thinking Further to challenge one to think a bit
Defining Words to enhance vocabulary and understanding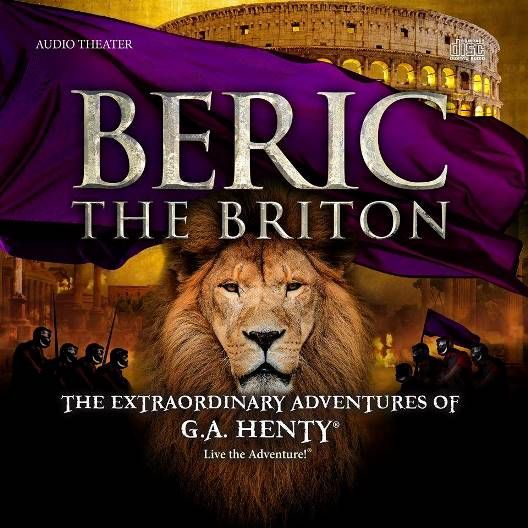 Along with a discussion on each "chapter", there are recipes to try, interesting facts about that time in history, an abundance of pictures, suggestions on seeing Rome on Google Earth and the link to do that, a Bible study on topics discussed, and more. For better or worse, there aren't any answers to the study guide. You'll just have to listen, dig, and learn alongside your children! This was created for ages 6-16 but I can't see anyone but the very young not enjoying Beric the Briton. It's a bit scary because obviously war and persecuted Christians and gladiator fights aren't exactly comfortable subjects, but there's nothing terrifying and I find that by the time my kids are old enough to understand what they are talking about during the scarier moments on each of the Heirloom Audio Productions audio dramas, they are also old enough to process it and not become fearful.
We've also reviewed Under Drake's Flag, With Lee in Virginia, and The Dragon and the Raven from Heirloom Audio Productions. Each has been fabulous, riveting, and entertaining. While all of my children have their favorite, Beric the Briton joins the other three on a shelf of high esteem in my house, as we've loved and enjoyed them all. The kids have asked that Beric the Briton be brought along on our upcoming trip so we can listen to it again in the van.
Heirloom Audio Productions has several different packages to purchase Beric the Briton. The one I received, with the two-CD set and all the downloads, is $29.97 plus shipping and handling.
Heirloom Audio Productions and Beric the Briton can be found all over social media. Check them out on the links below.
Beric the Briton Facebook Page
The Extraordinary Adventures of G.A. Henty series Facebook page
Heirloom Audio Productions on: