Poetry has been a part of our homeschool from the beginning. I have vivid memories of Liberty standing to recite the poem she'd recently learned back when she was doing kindergarten. Somewhere along the way though, we got away from it. Too busy, it got pushed to the side except for the rare occasion the language arts books we were doing happened to have a poem to memorize. When the Old Schoolhouse Magazine's Review Crew was offered the opportunity to review Linguistic Development Through Poetry Memorization for the Institute for Excellence in Writing, I begged for a chance. Institute for Excellence in Writing is not new to us – I've reviewed several of their other programs and Liberty has completed a Writing I class at co-op this year, and Mr. Pudewa is somehow a friend we've never even met. He's entertaining and interesting and she's learned much from him. Enter: Poetry Memorization. We're learning even more! We received the Linguistic Development Through Poetry Memorization set priced at $65, as well as a separate spiral bound print copy of the Student Pages containing the ninety six poems and speeches priced at $19.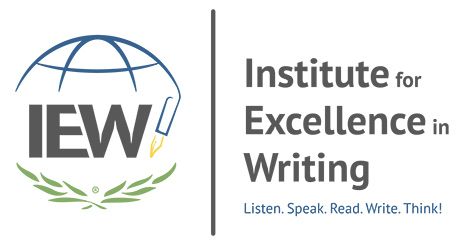 According to the
Institute for Excellence in Writing
, poetry helps "grow the brain, build mental discipline, and strengthen the spirit;… poetry is enjoyable, easy to memorize, and linguistically rich; …and a high level of ability can be developed by using the Talent Education methodology." Having been convinced of this during my teaching in the past, it was so good to be reminded why I began as I did, and to be given the opportunity to get back to those roots and dive into poetry once more.
I started all five of my school age kids in Level One, as suggested. We dove in, listened to the accompanying CD of all the poems, and started memorizing. To this day, several poems later, "Ooey Gooey" remains widely quoted… even Elliot, my two year old, tries to say it! I love it. The video below is Charlotte, age 5, the day she started memorizing Ooey Gooey. Her daddy was on a business trip and we had to send him a video of her day's fun.
The student book is broken up into levels. There are poems and speeches of all sizes, gradually getting harder, but some easier ones thrown in the middle of harder ones too. The margins of the poems have the occasional word definition so the student knows what he's saying – very cool. We had fun picking apart the poems to decide what they meant, and I found that to be quite helpful in the enthusiasm to keep learning. Many of the poems are entirely new to us, but several are ones we learned in the past. I'd purchased a Robert Louis Stevenson book of poems back when we were doing poetry before and several we'd memorized are in this book as well. Like a much-loved friend, the kids were thrilled to see those in here!
We're all learning together, although some kids – and poems – are faster than others. It's expected to take several years to complete the book, and especially for my little ones, I'm sure this will be the case. The student book has taken up residence on the coffee table in an attempt to encourage use, and I think it'll stay there this summer. I can't wait to hear what they can do! I've found them reading it many times on their own. Turns out, poetry is pretty engaging for them too! They love when they get called upon to recite. It started out easy, and they were memorizing several poems a week. Things slowed down a few poems in when the poems were a bit longer. The kids looked at the first longer one and complained it would be so much work but wouldn't you know it, they are capable!
I received a spiral bound teacher's book with instructions for the course and all of the poems, a spiral bound Student Pages, access to a download for the Student Pages, and a beautiful CD case with the poems on CD,instructions and memory charts, and access to seven MP3 downloads, and Mr. Pudewa's Nurturing Competent Communicators on DVD. Like everything I've seen and used from Institute for Excellence in Writing, it's superbly done and boxed up in the familiar IEW box. I can't wait to see how this will develop my children in their ability to communicate clearly, and already see the confidence that comes from learning something well and even having a bit of fun with the dramatics. The giggles when one dear muttering child has to repeat poems multiple times were funny – but I'm hopeful that it will aid in a cure for the muttering habit as well!
Find Institute for Excellence in Writing all over the web!
Facebook:  https://www.facebook.com/excellenceinwriting
Twitter:  https://twitter.com/iew  @IEW
Pinterest:  https://www.pinterest.com/iewriting
YouTube:  https://www.youtube.com/user/iewtv