It's my last review of the year! We'll close it up with a bang, since all of my children agreed this was the best review product of our year. We got the game Snake Oil from Out of the Box Games. Geared for ages 10 and up, we started out with just Eden (9), Liberty (11) and I, but soon Sterling (7) and Ruby (6) wanted to join in. They did, needed quite a bit of help, but we all had fun.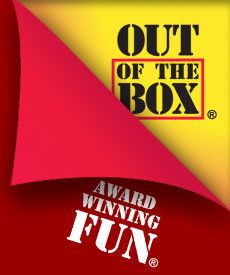 The main idea of the game is one person is the customer and the customer draws two cards and chooses one to describe who they are, and the others have six cards in their hands. They combine two to make a "product" that they then have to market to the customer. They describe what it is and why the customer needs it. The customer hears their pitches and chooses which they prefer. The sales pitch of choice earns the salesman the customer card and they win the hand. As soon as I began writing, Sterling, Eden, Ruby, and Liberty grabbed the box for another game. At the moment, Liberty is the customer and is a pregnant lady. Eden's trying to sell her "Cream Fluid", which "magically gives you cream for your coffee and keeps you from getting dehydrated." Sterling has "Tofu Energy" which "gives her lots of energy because when she's pregnant, she needs energy, since people that are pregnant want to lie down all the time and don't want to work, so it gives energy to get their stuff done." Ruby's selling "Shame Suit" that takes away all of your shame of being pregnant and makes you looks skinny instead. (She and I apparently need to have a chat…)
Watching them make their pitches, come up with a sales pitch at a moment's notice, and think on their feet has been so, so fun. They have improved 100% from when we got the game and don't even realize they've actually gained a skill in the meantime. The game is hilarious, the pitches are so fun to give, and my kids have learned a few terms along the way.
Each game lasted about half an hour for us. Ruby's not the best reader and needed a bit of help, and Sterling kept up pretty well as a very good reader, but I can see it moving a bit faster among adults. I'd love to see what this game looked like with adults… it might have to get pulled out after the kids are in bed at our next holiday gathering. It moves along fast and could last as many rounds as you wish.
We had a blast with this game. The kids pull it out often, learning it was easy, and they've learned a little bit of public speaking in a small group, trying to describe their product and attempt to convince their customer. The term "Fart Cup" has become a standing joke in our house… I'll let you use your imagination, but it's a "deadly weapon that can be filled at will and released into the air near an unsuspecting person." I cannot explain how many giggles have resulted from that one round of Snake Oil. While we didn't find a card that had language we didn't use, if a card was offensive, it could be easily pulled. It's not Ladies Tea kind of language, but we found nothing that bothered me in a rousing game among family and friends.
Hilarious. In a word, it's hilarious. We love it.
Suggested retail is $19.99. Out of the Box Games is on YouTube, Twitter, and Facebook.
To read what the rest of the Crew thought of Snake Oil and their other game for ages 8 and up, Party Potion, head over to the Review Crew Blog.