The Review Crew received the opportunity to review Purposeful Design: Understanding the Creation by Jay Schabacker from Purposeful Design. I received a copy of the hardcover glossy-paged full color 90 page book to review and read with my children. They also offer a free curriculum that I downloaded to use alongside our study. Young Explorer's Club curriculum is a 30 page pdf available for free download that is fun worksheets, questions, verses and more. This was perfect for my older elementary readers to work through and I think they should be able to do it on their own with minimal help from me. We used it as more of a discussion guide during the review period, but I think I'll print it off and have them work through it on their own now that we've gone through it together.

I read the first few pages aloud to my children one Sunday morning as we were getting ready to leave for church, and I got a "Wow, I didn't know that" from my dear husband. Just like that, I'm impressed. My dear husband knows everything. Chock full of fascinating tidbits of information, with a beautiful picture on every page and things I'd never heard before, and Scripture verses everywhere, the first thing that comes to mind is well done. Just entirely well done. It's an argument for Creation and, rather than merely intelligent design, purposeful design. The facts presented are short and to the point easy to understand, and fascinating. I love the book – I couldn't brag on it enough. Even my little ones liked to listen, my 2nd grader on up could read it well (not without a few mispronunciations, mind you) and it's understandable and makes for an easy and entertaining book – but so vast beyond comprehension too.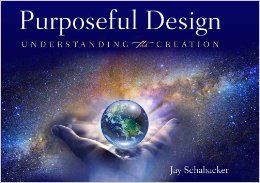 Purposeful Design touched on many topics, including the brain, the stars, (I loved the section with unusual looking creatures showing God's humor and the line, "Do you agree – the five words in Genesis– "He also made the stars" as an understatement –and humorous?") the moon and it's phases, the tilt of the earth… so many things. All of life points to a "purposeful design" and to read of some of these things made us marvel and the goodness and plan of our Creator. I plan to make this required reading each year in our homeschool studies alongside having my children work through the pdf questions. It's a fabulous addition to a science curriculum.
I have to admit, I was curious in my reading it to find out Mr. Schabacker's church background. I was pleased to find out he's a fellow reformed Presbyterian in a similar denomination. I was guessing we must be somewhat like-minded. It's rather fun to find curriculum written from a perspective I entirely appreciate.
Jay Schabacker's list of accomplishments is vast, and his study seems to be even more impressive. He worked on the Apollo Moon Program at NASA's Houston Manned Space Center, started Schabacker Investment Management, and this is his second book. He's contributed to numerous organizations as well.
I think this book will live on the coffee table. It's like one of those beautiful books that people buy for the sole purpose of decorating the coffee table and providing something beautiful to look at should the occasion arise, and this one totally fits the bill for me. The pages are beautiful, and if I can encourage my children to marvel at the glory of God, it's the perfect choice. Even as I began my review and grabbed the cover shot for my blog, my three year old son got all excited and ran to the coffee table to show me how that picture was on the book he's been admiring.
You can find a blog for Purposeful Designs here, and also on Facebook and Twitter. You can find Jay Schabacker on LinkedIn under Jayschab.
Purposeful Design is $18.95 and available for purchase here. Free alongside the book is a download for Young Explorer's Club curriculum.
To read more reviews on Jay Schabacker's book Purposeful Design: Understanding the Creation, head over to the Old Schoolhouse Magazine's Review Crew Blog.