Recently, I was asked to review The 7 Minute Life Daily Planner from The 7 Minute Life for the Old Schoolhouse Magazine's Review Crew. I received a 7.3 x 8.5 inch, 271 page undated planner from them for this review.

The 7 Minute Life is based on the premise that the average person's attention span is only seven minutes long. The 7 Minute Life asks "what if you could harness you brain's focusing power and put it to work in a repeatable system that would keep you inspired and energized?" The 7 Minute Life Planner contains quite a few categories. They include:
Prioritize
Discovering Your Purpose
Highest and Best (using your time for the best use)
Mental Clutter
Goals: 90 Day Personal and Work Goals, Financial, and Life Goals
Unfinished Work and Home Tasks
Home Repair
Grocery List (ideas for your list, categorized)
Connections (people)
Annual Calendar at a Glance
Annual Projects and Tasks
90 Day Calendar Worksheets
Monthly Calendar at a Glance
Meeting Planner
Daily Progress Report
Notes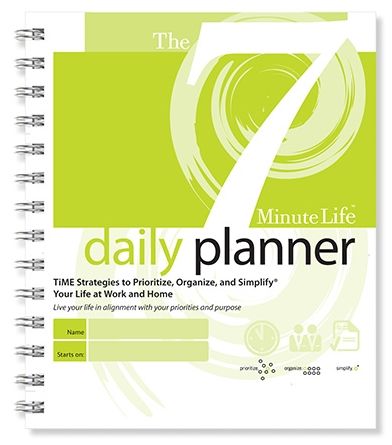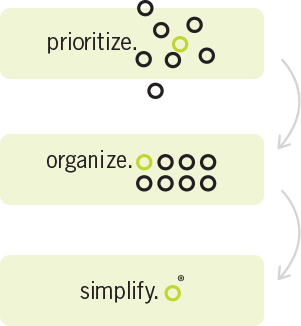 When I received my planner in the mail, I had high hopes that this would work well for us. Life is so  busy with seven children, school, co-op, church, and other random activities. My wall calendar would state we're not running nearly so much as many, but the days are full. I sat down with my planner and began the process of setting it up to work for me. I chose my priorities, my goals, and my items I'd like to have done before 11:00 am. Based on the premise that we waste time we do not have and do not notice, the 5 before 11am was a great concept to keep my moving in the morning – except I have the same things, day in and day out, that have to be done by 11am. Keep children moving on school, chores. Change the baby. Feed the baby. It seems mundane and almost frustrating to consider. One of my five is getting a supper plan figured out – that one I liked a lot. It seems silly even to write that, but in my world, a plan is half the battle.
Did I Do What I Said I Would Today? was an interesting concept, but a frustrating one for me. Laundry didn't get done nearly so much as I'd hoped. School, check. Lunch, check. But did I really make a difference? It's all undone in mere moments – tomorrow if I'm lucky. It's hard to put a major purpose down on paper for my life: I raise children. Clean the house. Make supper. If I don't get it all done in a day – and I never do – tomorrow is another day. I can do that. While logging my priorities was helpful, my purpose has a long term goal far more than a short term one. I answered the question "At the age of 85, I will know I have fulfilled my purpose when:" with "my children are grown, know the Truth and know that I love them." My day to day stuff isn't so important, most of the time. Mothering is far more broad than that.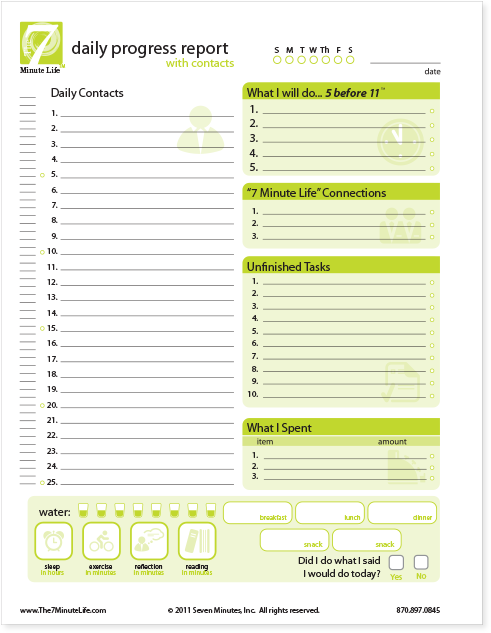 I have to conclude that, while the concept behind The 7 Minute Life Daily planner is quite workable, it's less workable for me. In the days that I was working full time, it would have been far more helpful than now. Now, I'm raising children for my King, and the mundane is rather disheartening when you consider it on paper. While it has great potential, and if I were working outside the home, tracking voice mail would be valuable. My daily contacts outside of my home are minimal, so that section was less than helpful. The Thank You Notes section is a great concept, and encouraged me to keep on top of small thank you's and encouraging notes to friends for simple things. The Water section is very helpful. As a nursing mom, I'm always trying to drink more, and seeing it on paper, checking it off as I go, really helped me stay on top of that. The Home Repair list was, while helpful, a bit assuming. If something is broken, I tell my husband. He fits it into his very full schedule, prioritizing what needs immediate attention, and nearly always fixes these things himself. Calling someone to get it fixed isn't quite how we do things here – although I'm sure my husband would love it if we could!
I love the idea of a planner on the counter, helping me to keep my mental clutter down and organize my days. I do waste many minutes. If, one day, The 7 Minute Life introduces another planner more geared toward the stay at home homeschooling mom, with sections challenging me to keep on top of my work at home, organizes our appointments, and encourages quiet time with the Lord, I'd be anxious to try it. (Keep the Water log!) The concept is great, and if you're a working mom, or a single working mom juggling a busier life than I, go for it. This planner, while complicated to learn, is a great tool to keep your thoughts and days' events together. For me, though, I will be, unfortunately, heading back to my wall calendar and thanking my Lord for my work inside my home, mundane as it is.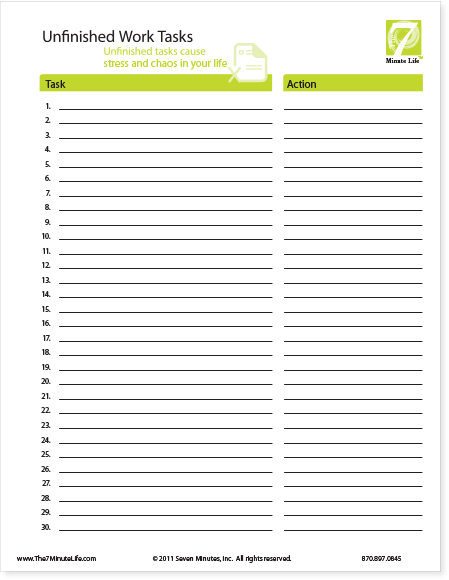 The 7 Minute Life Daily Planner is $24.95. In their words, it enables you to:
Define your values
Discover your purpose
Set written goals
Monitor your physical health
Get rid of clutter in your life
Have a daily written plan of action
Track your progress
The 7 Minute Life is on Twitter, Facebook, Google +, Pinterest, and YouTube.
To read reviews from the rest of the Crew that reviewed The 7 Minute Life Daily Planner, check out the Review Crew Blog.