Sundays are stressful days. My husband holds an office in our church, teaches Sunday school, and is generally MIA an unpredictable amount. Then, there's communion. Our church serves communion twice a month, during which a tray looking something like this: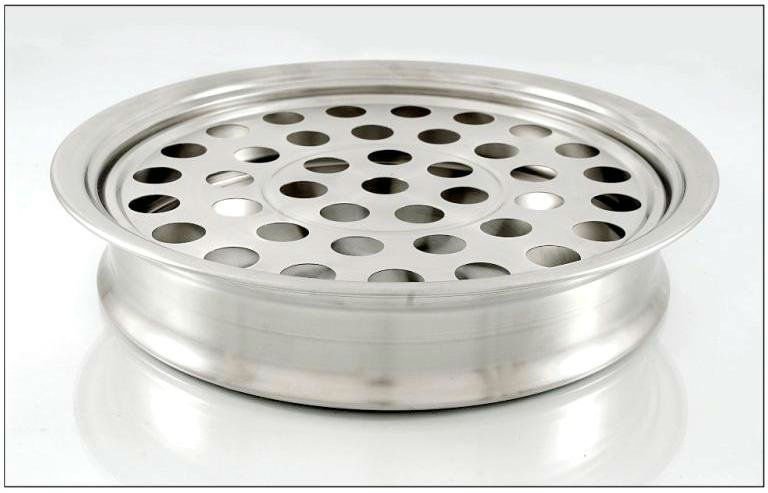 containing 50 or so tiny cups of bright purple fluid gets passed down the pew rows. My husband helps serve communion, and my task is simple: take one, and get it past seven children, some more grabby than others, without spilling – without my husband's aid.
Ha. Simple.
Every time, there's a moment. How is this going to work? Pierce is now completely convinced this is not for him, making it exponentially easier – but Ellie is just starting to realize she likes cups, she likes playthings, and that looks fun.
Oh, yeah, and this is a reverent time. Keep the kids quiet while passing said tray, don't spill anything, and whatever you do, don't wake the baby.
It's a recipe for disaster. We've avoided it thus far, but this last week, Charlotte decided she ought to help me pass the tray. I'd attempted to pass the tray to the row behind me since the elder serving was not to my row yet and ridding myself of possible disaster as soon as possible is always in my best interest. I started to hand it back, Charlotte tried to grab it, her arms are not long enough to reach the row I was headed for with it, and I had a moment.
This. Is. Chaos. Three kids were whispering, I was balancing my tiny cup barely out of the baby's grasp, Charlotte is doing her best to dump the entire tray on my head, and Pierce is playing 20 Questions about Communion. I'm trying to absorb the moment and what communion means without absorbing the entire communion tray, and all I can think is how ridiculous the whole thing was going.
I couldn't make up this life if I tried. I couldn't have seen what chaos can really be without living this.
There's not much to be done but the next thing. Pick up, carry on, take no mishap personally, and do the next thing. People comment all the time how they could never do this. You can. You would. You have to. And then you'd sit back, revel in the moment that is, be thankful for it, and look forward to the day that communion can again be serious, quiet, and completely reverent.
Until then… don't wear white on Communion Sunday.