As part of the Old Schoolhouse Magazine's Review Crew, I've had the privilege these last two months to read and review Apologia Educational Ministries' What On Earth Can I Do? – a part of the What We Believe series. I received a Junior Notebooking Journal and the regular Notebooking Journal and the What On Earth Can I Do? Coloring Book to use with my children as well.

We used the main text as a read aloud. I read it to all of my children, then sent them on their way to do the work in the notebooking journals. The coloring book I quickly learned is a great option for the "you color while you listen" approach. If I'd have had four of them, I'd have had each child to that. As it was, the younger ones took turns.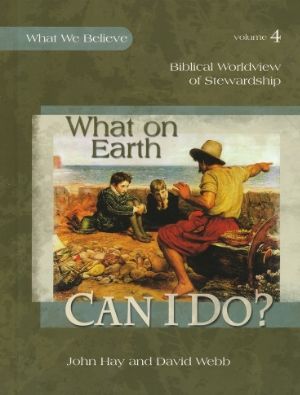 What On Earth Can I Do? teaches a biblical worldview. First off, I love it. The kids love it, although I learned I had to pace it better. Too many days we read until my voice was hoarse. We all were enthralled, completely enjoying the learning, but the next day when I went to read again, my more energetic children groaned. Live and learn; read less so they don't get burned out.
The book contains eight lessons, with many places to stop during each lesson. It contains just shy of 300 pages – the eight lessons are more main points, not meant to do one a day. They are recommended to do twice a week, completing a lesson every two weeks, more or less for some lessons, depending on length. The notebooking journals dive into what was read, asking questions and giving words to learn, verses to memorize, and providing the occasional word game to throw a bit of fun at the study. Crosswords and word searches speak to one of my children in particularly, so those were quite fun for her.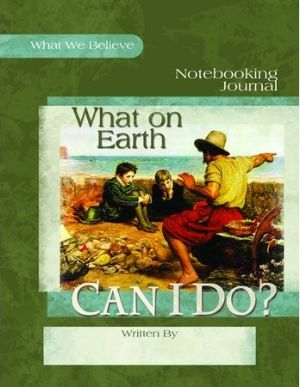 I so love the thought behind the What We Believe series. What On Earth Can I Do? is book four in the series. We haven't done any of the others in the series, but they all sound amazing. Teaching my children that they are here as a part of God's plan, that the good, the bad, the hard – that those are all things used of God to fulfill His purposes – it's a goal each year for us and our homeschool. I want them to find their worth in Christ and God's plan for them while recognizing they are not the center of the world, but a part of a bigger plan. We read of Adolph Hitler, Dietrich Bonhoeffer, Jack Benny, Gladys Aylward, and more. (The story of Gladys Aylward prompted a new study, to read more of her life. I love the rabbit trails we go on, inspired by things we've read. What On Earth Can I Do? sent us on a few… all worthwhile.)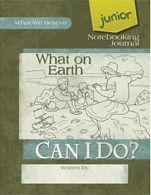 With Lessons titled "Will You Be Found Faithful?" and "Where Does Your Time Go?" and "Where Is Your Treasure?", be prepared for conviction. To live with the knowledge that we are called to a higher calling, that there's a life and a world to come… it's a heavy thought, worth great consideration and further study. We'll be finishing this book this summer, and I can't wait to see how all of us grow in the knowledge of Him who made us.
If money is truly an issue, just the text and a bit of work on the part of the teacher would work quite nicely. The notebooking journals are fabulous in their own right, though, and add quite a bit and take the work off the teacher and provide a bit of seatwork for the student in a no-prep way. As my kids get older, I'll have them read the text through in independent study and work through a notebooking journal again. It's a lesson to be revisited – even for me, I think. We all have much to learn. Apologia Educational Ministries has provided materials for some of my favorite reviews, and What on Earth Can I Do? joins the list of favorites. I've loved every single thing I've done from Apologia Educational Ministries. They are entirely well done and take a much-appreciated stance on Christianity and the life we're called to live.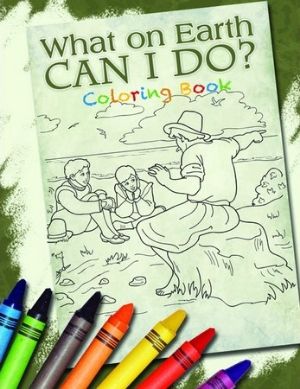 The children that listened to me read What On Earth Can I Do? are 5, 7, 9, and 10. The coloring book was appropriate for all of them, considering their fondness of crayons, but I had my 5 and 7 year olds work in that. The Junior Notebooking Journal is for early elementary, but I found rather above my five year old's capabilities. My 7 year old worked in that, with a few challenges. The regular Notebooking Journal was appropriate for both my nine and ten year olds.
What On Earth Can I Do? is hardcover and priced at $39.00 Each of the notebooking journals are $24.00 and the coloring book is $8.00. Apologia Educational Ministries is on Facebook, Twitter, Google+, and Pinterest.
>