I received a hardcover Faith Builders Biblefrom Zonderkidz, a part of Zondervan, as part of a review for the Old Schoolhouse Magazine's Review Crew. Sterling, 8, took charge of trying out this review since Legos are definitely his thing and the excitement he had for this when I told him of the possibility was huge. He took it off to his bedroom and then disappeared at random times – and I'd find him sitting cross-legged on his bed, Faith Builders Bible in front of him, as he pored over the color photos of building blocks displaying occurrences in Scripture. A New International Reader's Version (NIrV), Faith Builders Bible contains both Old and New Testament, plus twenty-four glossy color pages displaying a building block depiction of a certain Scriptural occurrence, plus a Building Block Verse, a sturdy hardcover binding, and highlights of special verses. The Scripture pages are the thin but sturdy, type is all black throughout, and the font is nine point and easy to read. The photos brought mental images to life and drove Sterling to read "his" Bible more to explore the verses that inspired the Lego creations. "His" because Pierce (4) is quick to remind him that it's NOT just Sterling's. Mr. P loves it too!

I read through this aloud, but mostly Sterling claimed and loved it for his own. We compared it to our (my!) version of choice, and while NIrV wouldn't be my version of choice for my own personal study, I couldn't help but notice how easy it was to read, understand, and learn from for my children. If easy-to-understand is what drives them to dig deeper, then I'll gladly make concessions on version.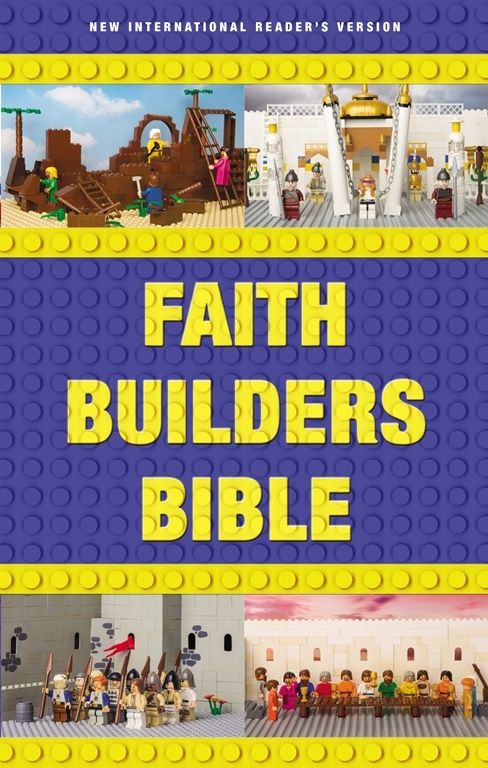 I love the idea of having my kids recreate a scene from what they've read in Scripture with Legos. Having spent some time with the Faith Builder's Bible, I think it's a great beginning in encouraging them along those lines – and they completely understand what I'm asking for when I tell them to create a battle scene from Israel, an altar, a depiction of the days of creation, etc. I particularly appreciate that the pictures have a little write up on the story they illustrate – and then they point to the verses that will tell the whole story in Scripture. That's perfect!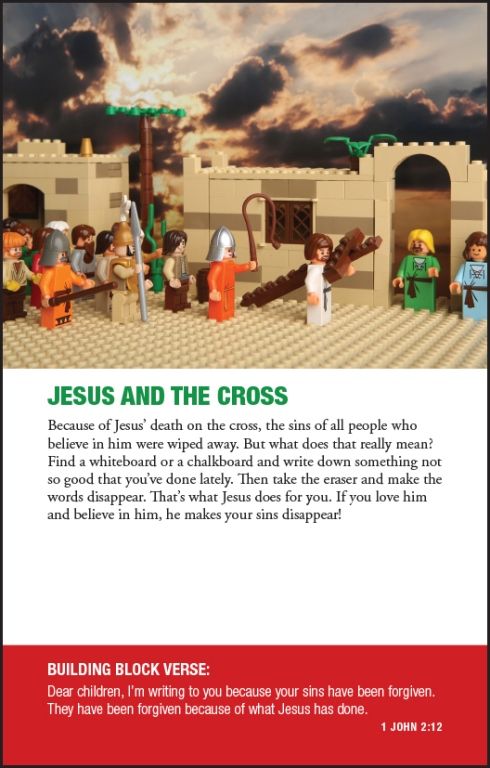 I only found two real drawbacks – the lack of maps in the back and, in a perfect world, there would be more "illustration" photos (because I don't think you can ever have enough!). Maps are a huge draw to my geography-loving son and he'll study them for hours given half a chance, but there aren't any maps in the Faith Builders Bible. There are, much to its credit, a mini dictionary to help with understanding and a "Great Bible Stories" list of ninety-two great stories and references. That Great Bible Stories list might be my favorite part! It gave a fabulous starting point of stories that Sterling enjoyed and made him realize the Bible is far more interesting than he ever realized. A fun discussion of Elijah on Mount Carmel, of Baal and the altars built in I Kings 17-18 and the widow of Zarephath resulted – and sheer amazement that the fire lapped up the water, groceries that never ran dry, and the dead being raised. Our God is great, and I'm so thankful for resources like this which show a glimpse of His greatness to my children and encourage them to read and learn further.
Zonderkidz' Faith Builders Bible, perfect for the Lego loving child, is available here for $24.99. Visit Zonderkidz on Facebook and Twitter.
If you're interested in reading more thoughts about the Faith Builders Bible from the rest of the Review Crew that have had the opportunity to check it out, head over the the Review Crew Blog!