We've been listening (and singing along!) to Happy Kids Songs three song sets Friends & Sharing, Happiness & Attitude, and Manners & Character for a month and a half now. I received the files via download and put the songs onto the Ipod to play in the van… you know, so we could listen and listen and listen some more. The songs aren't super annoying, but after a bit… well, you know. They are kids' songs. My younger kids loved them – Ruby, quickly approaching six and music lover that she is, was be-bopping all over her car seat when they played. I also received Happy Kids Songs Workbook: Hands-on Activities to Build Character, Social, and Emotional Skills.
I think the workbook was really my favorite part. With 122 pages chock-full of activities and ideas as well as the words to the song, it's pretty well done and a great addition to use alongside the songs. It touches on all the topics Happy Kids Songs offers, not just the three song sets I reviewed. With word puzzles, coloring pages, and fill in the blank questions, my workbook-loving children enjoyed this one quite a bit. According to Happy Kids Songs, "The workbook… merely provides an assembled hard copy of the lyrics and activities that can be downloaded for free at HappyKidsSongs.com. This saves the consumer the time and hassle of downloading and printing…"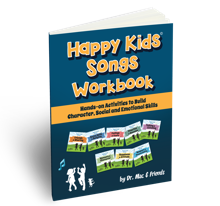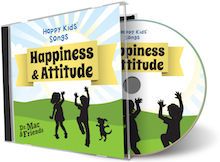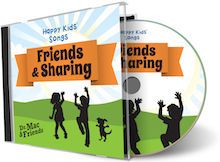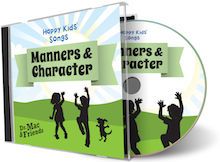 The songs are about 2-3 minutes each, teaching a character trait worth having. Repetition is abundant, words are simple, and my kids were singing along by the second time they heard the songs. These are designed for ages 4-8, but I think they are more suitable for 0-6. My older kids were not quite as thrilled with these.
The character traits introduced and discussed are worthwhile, for sure. This does not appear to be a Christian company, so the songs did not discuss why we ought not lie… it almost suggested that we tell the truth for personal gain. While I'm sure there are things to be gained by telling the truth, I've taught my kids honesty is what I expect because Scripture tells us we are to not bear false witness. I could go on regarding each of the traits introduced, but suffice it to say, in my home, I'd have been happier with Happy Kids Songs if they were backed with Scripture and Biblical principles instead of coming from a secular perspective. It wasn't that I didn't agree with what they had to say – I just want my kids to understand we do these things because Jesus displayed these things for us, because Scripture tells us to – not because people will like you or they'll give you what you want if you behave. For us, these weren't a fabulous fit. In a secular setting, they would be great. In a setting where you were dealing with bad behaviors and trying to reinforce good, these would be a help, merely to get kids thinking on these things.
Happy Kids Songs is on Facebook, Twitter, and YouTube.
Happy Kids Songs are available through ITunes and Amazon for $4.95 per song set of five songs each, or $.99 per song. The workbook is offered through Amazon for $12.56.
Many of us on the TOS Crew reviewed Happy Kids Songs. Check out what others thought on the Review Crew Blog.