Six weeks ago, I received a course from Veritas Press in their Self-Paced History for Eden (age 9) to work through titled Middle Ages, Renaissance, and Reformation as part of a review for the Old Schoolhouse Magazine's review crew. She has completed 27 lessons in that time. Intended for grades 2nd-6th, Eden fell squarely into this category, having just completed 4th grade. We also received the Middle Ages, Ren, & Ref Flashcards to help with her study.

This program is nothing short of amazing. Eden loved it. She's learned so, so much. She was about a week in when our church began their corporate Sunday school class having different men in the church teach on the reformers. That very first week, Eden exclaimed, "I just learned about him! He's in my song!" when we began that week's class. She had just studied Augustine, and that was the very first Sunday school class. Others we've studied she hasn't yet learned, but knew of them from the song she's learned to help her learn. (The song which, while it can drive me slightly insane after the seventh time that hour, has definitely helped her remember and is totally up Eden's little learning alley!)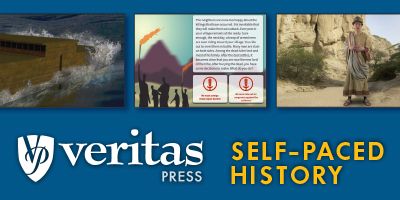 Eden worked on this every day – on her own. Can I just say how incredibly easy that is on me? How it takes the weight of teaching off my shoulders? I just log into her course every so often and check her grade to see how she's doing. She can check it too, so she knows exactly how well she's doing. While a few random grades popped up in the middle of far better ones that make me think she either really didn't get that day's lesson or she was being horribly distracted by the other six little people who tend to crowd around when the videos play on the computer, overall, she's done quite well. She loves it, never forgets to do it, and asks to do it even when she doesn't have to. I found her late Saturday night doing "a couple lessons because it's fun." A few times we were away for a day and she did two lessons the next day, happy for the excuse to do two lessons in one day. It contains 160 classes – it lasts for a complete school year. Perfect.
Eden doesn't have much for experience with video games, and this course does include games – learning the facts as they go, of course – but Eden struggled with these, especially at first. Soccer was one she totally didn't understand, but it soon became her favorite. It steps her through the lesson, and each step must be completed before moving on. No games before finishing the other parts of the lesson!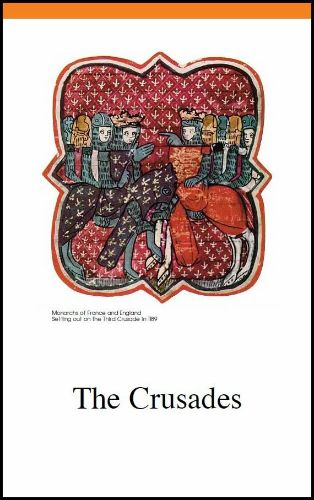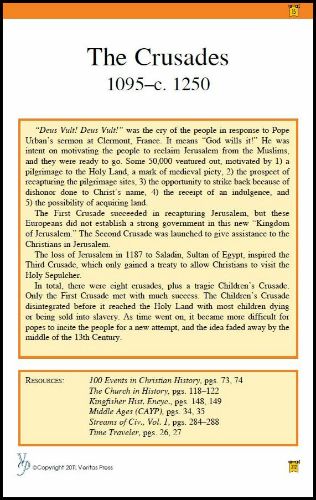 We didn't get the flashcards early in the review, but when they came, Eden immediately recognized all that she was learning. The song she's learned has numbers in it that match up with all the flashcards and each flashcard of the 32 speaks to one of the 32 people/occurrences learned. The course is split up into five lesson segments, and Eden's learned about one of these 32 in each segment. She's read through all the ones she has learned so far and many of the ones she has not. They are just short little descriptions of what she's learned. Even Sterling, my 7 year old, has sat down with those cards and read many of them.
All told, this one is definitely one of my very favorite reviews. There was nothing we didn't like about it. A few times the games portion of the lesson wouldn't work properly, but neither of us could figure out if it was user error or program error. Either way, we got past it without issue and it certainly didn't affect how much she learned. The videos play well, the teachers are engaging (even dressing up in period costume!), history is taught chronologically, and Christianity is taught unashamedly.
The Middle Ages, Renaissance, and Reformation course is $199.00 for the one year's access. It's all online. It's so, so worth it.
The flashcards are $19.95. They aren't a crucial part of the course – we didn't have them for the first several weeks. They are, however, much recommended. There's just something about holding them in your hand. seeing the pictures on them, and reading them away from the computer that helped make concrete some of the things Eden's learned.
Veritas Press can be found on Pinterest, Facebook, Twitter, and Google+.
To read more reviews on this course on Middle Ages as well as several others from Self-Paced History and Omnibus for the older students, check out the Review Crew Blog.