About a month and a half ago, I received a year's subscription to LearningPalette.com from Learning Wrap ups as part of a review for the Old Schoolhouse Magazine's Review Crew. I signed Ruby, age five and having just finished Kindergarten, and Sterling, age 7 and having just finished first grade, up. Both children worked in both Basic Level and Level One, as we played around trying to find a space that would challenge them without being frustrating.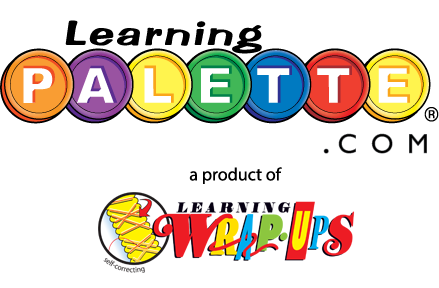 The website offers math and reading. The year's subscription gives Sterling and Ruby access to four levels of reading and six levels of math. Geared for ages K-5th, Sterling worked primarily in their Level One while Ruby worked in the Basic Level.
We struggled with this one a lot. While the concept was good, the kids were often frustrated and confused with it. The answers correlated with a colored disc on the left that had to be dragged to the correct question, and neither Sterling nor Ruby were able to click, move the mouse, and let go of the button on the mouse properly. I set them to using the Kindle with it's touch screen instead, but it was only marginally better.  They were forever swiping at it and losing it, having it settle into the wrong space, or pulling up the help menu on the Kindle because of the disc's original location.  Ruby often said she'd completed "cards" that weren't marked as done – I tried and failed to figure that one out. Both computer and Kindle froze often while they played and we'd have to restart the program, losing what they'd already done.
All that said, they both asked nearly daily if they could play on Learning Palette. Frustrations and all, screen time is screen time, I suppose. There were a dozen or so cards to choose from on any one topic offered, with much to keep them busy and reinforce skills. Each had about a dozen questions or pictures to match up with the answers. Geometry, coins, numbers to 100, phonics, nouns, adjectives… these are just a few of the things offered in the levels Sterling and Ruby worked in. It did a pretty decent job of being at grade level with Basic being Kindergarten and Level One being first grade.
I'm not working on a brand new computer. It doesn't typically have any issues, but it did with Learning Palette. I don't know why. My Kindle is pretty new and really struggled as well. Again, I don't know why. We kept trying, and usually got it to work on the second try if it froze the first time. Some days it worked great. While this wasn't my favorite, both Sterling and Ruby did enjoy themselves, despite frustrations with computers. The program doesn't teach concepts, but, for example, shows pictures of animals and letters they begin with and and has the student match the two. It showed stacks of blocks and had them count and match with the numbers. Instructions are minimal and I had to explain things to my less-than-fluent reader Ruby. Sterling figured it out much more readily on his own, since he can read well. There was no sound to any of it – something neither of my kids mentioned and something that didn't bother me a bit, since "game" music can be a bit much!
LearningPalette.com is $59.99 for up to five users per year, and coupon code HOMESCHOOL will earn you a 20% discount. Learning Wrap ups is on Facebook and Twitter.
To read other Crew members' experiences with both the online subscription I received and several physical products as well, head over to the Review Crew blog.