Kinder Cottage Publishing has taken many older children's books, edited them to update the English to what we understand today, and offered them in adorable little hardcover books. To review, I received The Tale of Peter Rabbit and Peter Rabbit at the Farm. Both titles are offered for just $4 each and, at five inches wide and seven inches tall, are the cutest little size and quickly became a favorite for my little ones to carry around. They were just their size!
Both books begin by introducing Peter Rabbit, Flopsy, Mopsy, and Cotton-tail in their home under the root of the big fir tree. Ruby thought something was very wrong, since they each began with the same page, but we were quickly engrossed in the adventures of Peter Rabbit. His sisters all march off to constructive play, but he just cannot help himself. In The Tale of Peter Rabbit, he heads straight away into the garden of Mr. McGregor – just where he had been warned not to go. He nearly meets his demise, but escapes in the end and finds his own sort of consequences in feeling very ill from his misadventures. In Peter Rabbit at the Farm, Peter meets all sorts of animals in his adventures – and relies on their kindnesses to rescue him time and again. I wish he'd met a bit of parental consequence, since it almost encourages his misadventures – but it is true to the original story and Peter Rabbit was a rather naughty rabbit!
I read these books aloud to all of my children more than once, and gave them to the kids to read on their own. Sterling, age seven – having finished first grade and quite a good reader – was able to read these on his own, as were my older girls. Ruby (age 5) read a few pages, but they are more wordy than her new-reader brain can handle. She loved looking at them, though. Both of these books contain 64 pages, are hardback with glossy, durable pages with fabulous drawings original to the book published by the Henry Altemus Company in 1917. These are stated to be ideal for ages 3-9, but all of my kids loved them – so much, that when I went looking them to get photos for this review, it took some searching. The Tales of Peter Rabbit had made it to the kids' bookshelf, but we found Peter Rabbit at the Farm in Charlotte's bed!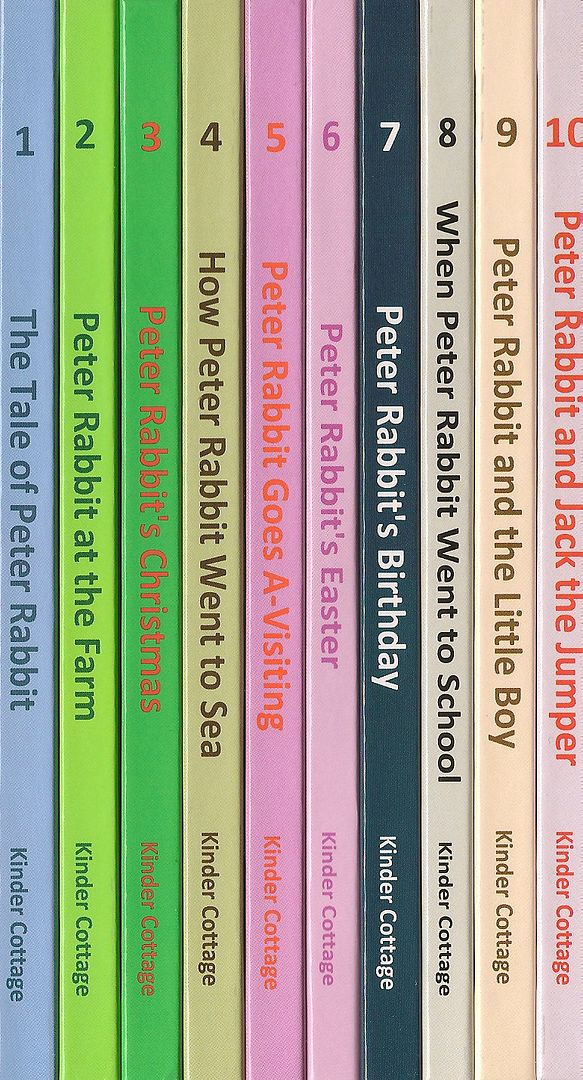 These books are books one and two in a series of ten. Kinder Cottage offers the whole series for $30. It would make a fabulous gift! They seem well bound and made well enough to become treasured keepsakes. The language is said to be updated – but we still had to Google to find out what on earth a persimmon is! That was the only hiccup in our reading – but obviously, a persimmon is a persimmon. Of course. I'll have to inquire at the grocery store, so that we may experience what it was that Peter Rabbit ate!
All told, we were thrilled with the stories, the book quality, and at the price that these are offered. Charlotte's first question was if we got to keep them or if they are merely borrowed. She was pretty excited when she found out they're ours. I'm hoping to complete the collection in our library. Well done, Kinder Cottage Publishing!
To read reviews of these and other reviews of the ten Peter Rabbit books from Kinder Cottage Publishing, check out this review post on the Review Crew Blog.