Charlotte (4 1/2) and Pierce (3 1/2) have been using the Preschool Curriculum from La La Logic as part of a review for the Review Crew. Geared for ages 3 and up, La La Logic has printables to work through and a series of online activities. Charlie and Pierce have had great fun "doing school" and playing on the computer. I also used a Kindle for this, and it worked great and was a bit easier for Pierce with the touch screen instead of the mouse on the computer. Charlotte easily used either. I originally thought just Pierce would work on this review, but Charlie begged to be part of the fun so I set her up on it too. I thought it might be below her level since she's reading a bit, but it might have been better at her level than Pierce's – he often didn't understand what the instructions meant until I showed him. He eventually figured it out though and had a great time doing it. He asked regularly to work on the computer and was thrilled with his accomplishments in sorting. He found himself entirely hilarious when he showed Blaine that he'd sorted things into food and animals… but he'd (intentionally) stuck the fish in the food pile since fish sticks are food. Oh, he laughed. He was thoroughly enjoying this learning business through La La Logic.

La La Logic offers Continuous Brain Challenge Mode that moves from one activity to the next without interruption, or the La La Logic Curriculum that does one set of activities designed to be played and mastered over and over again through a week before moving on to the next activity for more practice. My kids primarily worked in the Curriculum Mode since they were prone to wanting to play for an hour or three if I let them, and I'd rather they not spend immense amounts of time on the computer/ Kindle.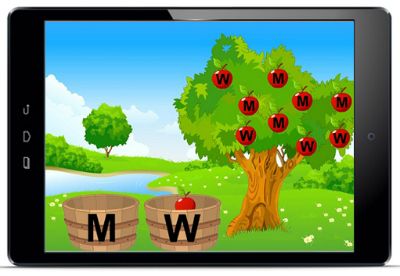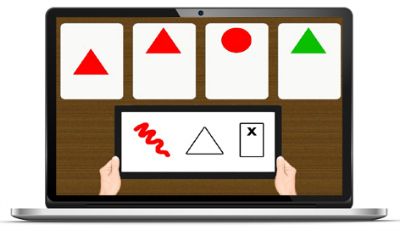 Some of the activities were super simple for my two, like the above image of sorting W from M. They did that easily. The other screenshot, though, asks where the object's position is on the card, and that stumped them often. We're many weeks in with this homeschool preschool curriculum and that one remains a mystery for both of them. The lessons get progressively harder and they can move through them one per week as suggested or slower or faster. I can mark the lessons completed as we go so we track where we are, and they can continue on the same lessons as long as needed. I love that Charlie and Pierce can be tracked separately on my one account and can both move at their own pace.
They learned, they played, they were entertained, and they begged to do it again. I never had any issue with it working properly on Kindle or computer and found it entirely well written. The downloadable pages were simple and while Charlotte especially wanted to fly through them, it wasn't an issue – we can go as fast or as slow as we like. The sorting pictures from the first lesson remain a favorite that I routinely find around the house. Pierce loved that best. The one sorting game asked Pierce to sort into two shelves… he did it without issue. Liberty (11) watched and asked what on earth the sorting rule was that he got it and she couldn't see how he knew. It was one toy on a card vs. two toys. Funny… but obviously Pierce is learning and getting it!
I really like this early learning curriculum. It's encouraging and educational, teaching problem solving and critical thinking skills – and Pierce now says "Sennnnnn-sational!" I would recommend that your younger child use a touch screen device instead of a mouse, unless they are far more tech savvy than my three year old. The household login is super cool and appeals to this thrifty momma in a big way. I also like that they work on paper and online – on paper is typically my preference for learning so a mix of the two is perfect in my opinion.
La La Logic is $29 per household for a lifetime login and is available here. It contains 100 lessons and will track up to five children.
You can find La La Logic on Facebook.
To read what the rest of the Crew on this review thought of La La Logic, head over to the Review Crew Blog.